Binance Review – Today we bring you a complete tutorial to start using the cryptocurrency exchange Binance !
We will explain how to create an account, add and withdraw funds of this account. How place a trade on Binance and to conclude how to secure best your account.
What is Wall Of Traders?
Wall Of Traders helps all cryptocurrency traders maximize their trading performance with advanced Smart Trading and Copy Trading tools.
Thanks to our partnership with Binance, we can offer all our tools for free. Binance automatically pays us part of the trading fees without impacting the user.
Binance pays us these fees only for accounts created without a referral code. For others, our platform is accessible from €9.99/month.
---
Binance Reviews – What is Binance?
Binance is an online platform specializing in cryptocurrency exchanges. the platform was founded in hong kong in 2017 following a fundraiser initiated by the founder and CEO Changpeng Zhao. After raising millions of dollars in just two weeks, Binance has grown rapidly.
Between 2019 and 2020, Binance acquired several companies, including the site of CoinMarketCap, for $400 million.
Binance currently offers over 150 cryptocurrencies, whose Bitcoin (BTC), Ether (ETH), Polkadot (DOWRY), Litecoin (LTC) and Binance Coin (BNB), the native cryptocurrency of the Binance blockchain. In total there are more than 400 pairs trading (e.g. BTC/ETH). The exchange has also developed a mobile app which allows users to trade anywhere. This app is available for iOS and android.
Binance is present in many countries, including the France, and offers an international platform translated into around thirty languages, including French, the Chinese and the Russian. The peculiarity of the exchange is that it is not limited to a simple cryptocurrency trading platform. In fact, Binance is characterized by its huge ecosystem. Visa cards, staking, launch pad, and more.
---
Binance Review – How to create an account?
To start the Binance adventure you will first have to Create your account !
Go to the home page and click the " Register " located at the top right of your screen.

Then enter your E-mail and create your password. You can also log in using your phone number. Do not put a referral code to be able to take advantage of the Wall Of Traders Copy Trading tools for free.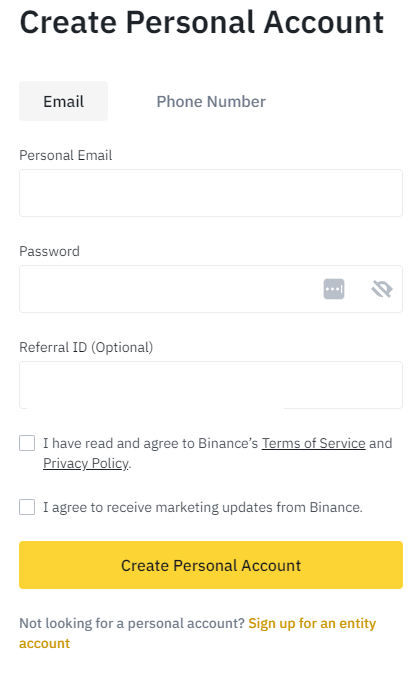 You will now need to follow the instructions for verification that will have been sent to your E-mail Where telephone.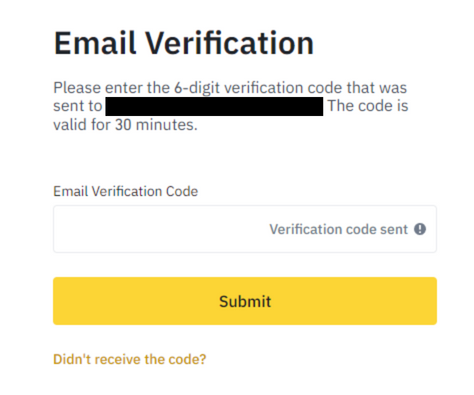 Once these steps are completed, your account will be created and ready to use. However, you still need add funds on the platform !
---
Binance Review – How to Add Funds on Binance?
Before your first purchase, Binance requires the verification of your identity, in order to avoid fraud. You will therefore need to complete the verification KYC (Know Your Customer).
Once the verification is complete, you will be able to buy cryptocurrency in different ways:
By debit or credit card : this is the easiest option for new users, if you do not already have cryptocurrency.
With a fund transfer to your Fiat and Spot wallet : Transfer a fiat currency to your bank account for use on the exchange like Bitstamp.
Thanks to Binance P2P : You can buy cryptocurrency through other users with Binance's peer-to-peer service.
Buy cryptocurrencies with a debit or credit card
To get started, go to the Binance home screen, select " Buy crypto currencies with your credit card " or else in " Buy crypto currencies ", click on " Credit/debit card "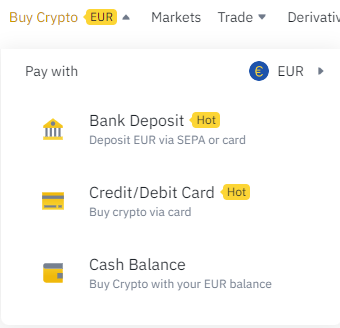 Then you will need to select the currency with which you wish to pay and the currency which you wish to acquire. For example, you can buy 100 euros of Bitcoin. To do this, select the desired currencies and click the " Continue ".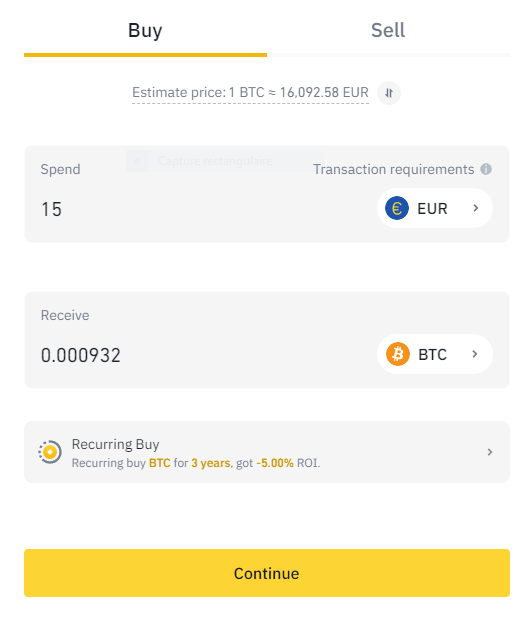 Then enter your credit card information, then confirm the amount and click " Add a new card ".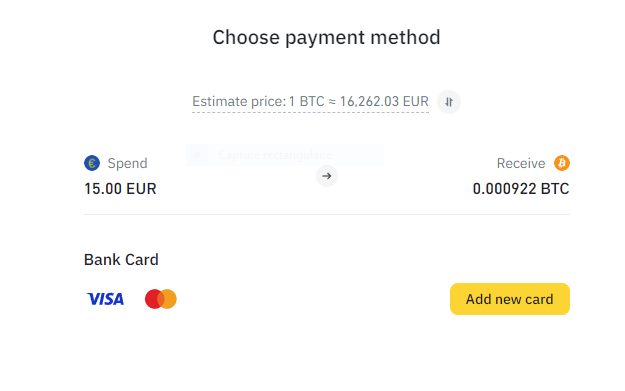 A new tab should appear, so enter your credit card details and click " Next ". You should know that it is only possible to use a card in your name.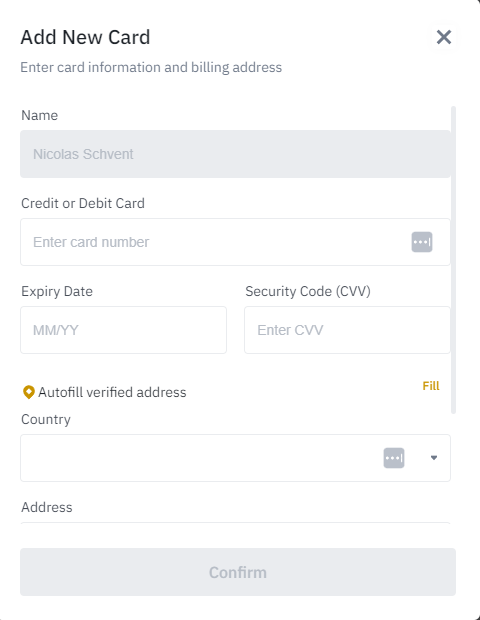 Now enter your billing address and click " Add a map "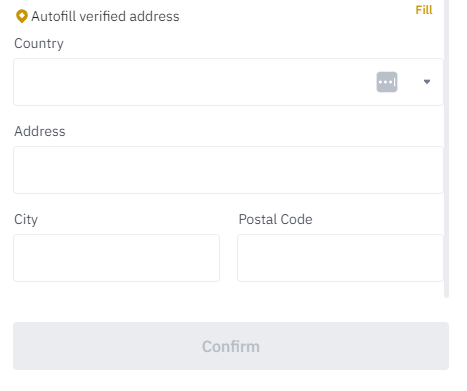 You will find yourself on the page " Buy cryptos by card ". All you have to do is check the amount and click " Continue ".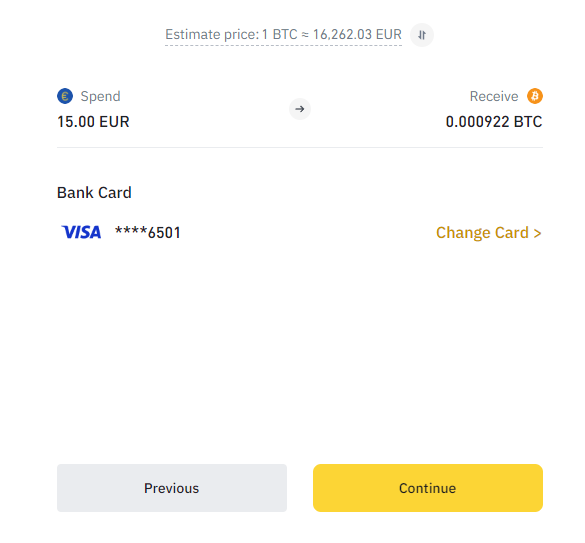 Finally, check the transfer details and accept the Terms of use and the Binance Privacy Policy. Then click " To confirm " to complete the payment.
Once the transaction is complete, your crypto currencies will be credited on your wallet. The lead time is approximately one ten minutes.
---
Binance Review – How to Withdraw Funds to a Bank Account?
On Binance, the process is rather simple. First, you need to make sure you have euros on your Binance account. To do this you must convert your cryptocurrency in euros using the pairs available on the platform.
Once you've made sure of that, go to the homepage and click on the " Wallet " at the top of your screen, then " Spot Wallet ".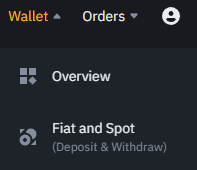 There you will find a tab showing all your available funds in euros. Then click " Withdrawal ".

Then select your withdrawal method, for example " bank transfer ", then, the amount you wish to withdraw. However, it should be noted that Binance imposes 0.80 euros of charges for any withdrawal, the withdrawal shall also be understood in 3 and 50,000 euros. Then click " Continue ".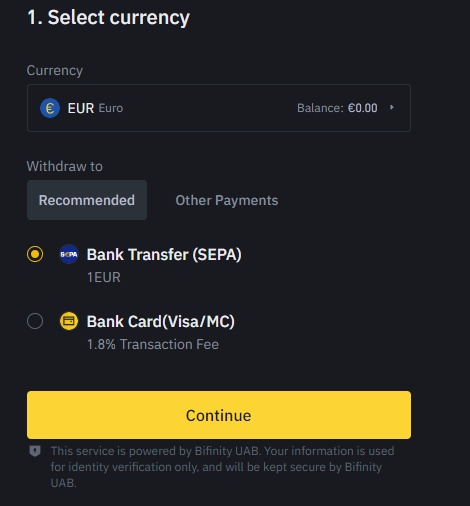 A new tab should appear. On this fill in your IBAN. Note that the bank account provided must be in your name. Once the IBAN is entered, click on " Confirm withdrawal ".
Binance will now prompt you for verification, click " To confirm ".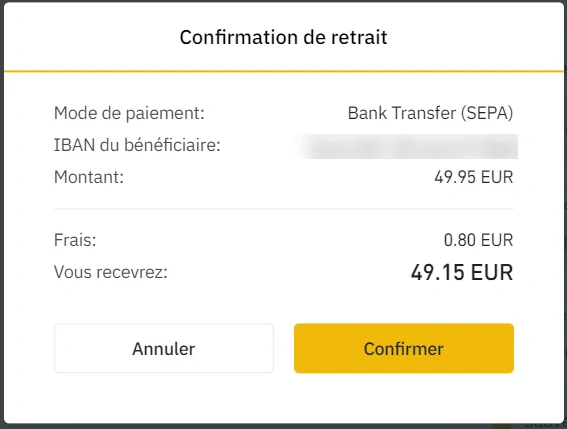 To conclude, Binance will conduct a security check, click on " send code ", then, you should receive an email containing the verification code. Enter this code then click on " Send ".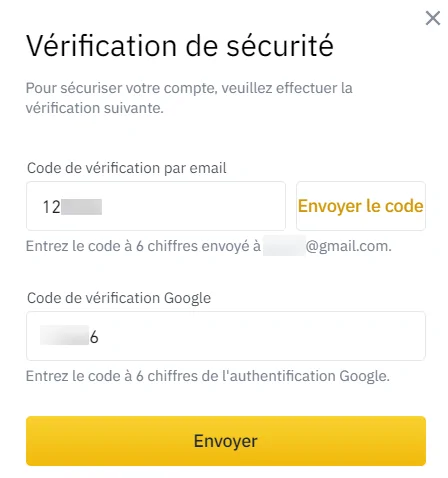 And There you go ! You will find your funds directly in your bank account within a few hours.
---
Binance Review – How to Trade on Binance?
Your account is now created, you know how to add and withdraw funds on the exchange, now it's time to try your hand at trading !
If you are unfamiliar with traditional trading interfaces, we recommend using the " Binance convert ". This function can be accessed on the Binance homepage in " Trader " and selecting " Binance convert " on the homepage.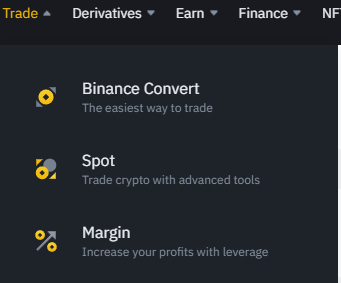 The tool " Binance convert " allows you to choose the cryptocurrency pairs you want to trade using a simple interface. Fiat currencies are also available if you wish to buy Where sale cryptocurrencies against these currencies.
In the upper field, select the currency with which you want to sell and enter the amount. Use the bottom field to select the desired cryptocurrency or fiat currency. Review your selection and click " Conversion Preview to see a preview of the upcoming exchange.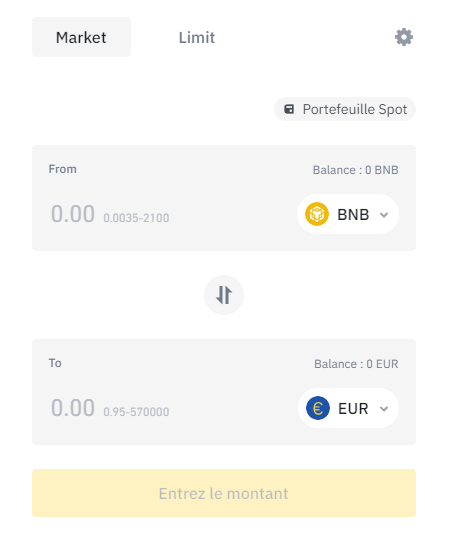 The default setting is " market ". This means that you trade at market price, also called the spot price. If the preview looks good, you can confirm the order and complete the transaction. Fees are also included.
If you want to create a Limit Order, select the option " limit " on the left side of your screen. A Limit order will allow you to buy or sell cryptocurrencies at a specific price.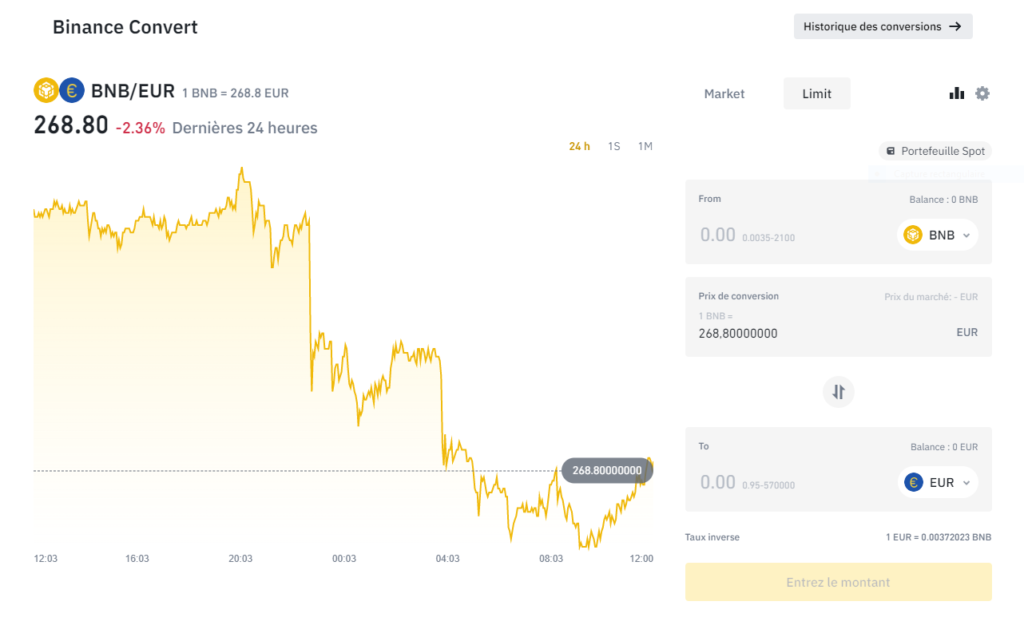 Binance Review – How to Use Classic and Advanced Trading Interfaces?
There are two types of views on Binance, " Binance convert " and " Spot ". They will allow you to optimize your trading experience.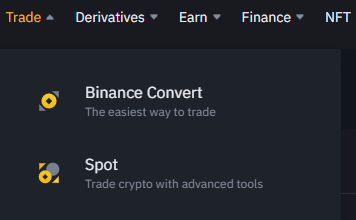 Both of these views offer the same basic functionality, except that the advanced user interface offers additional features. Both views are customizable so you can create one that suits your needs.
To begin, let's see the features of the page of advanced trading. This description also presents all the functionalities of the classic view.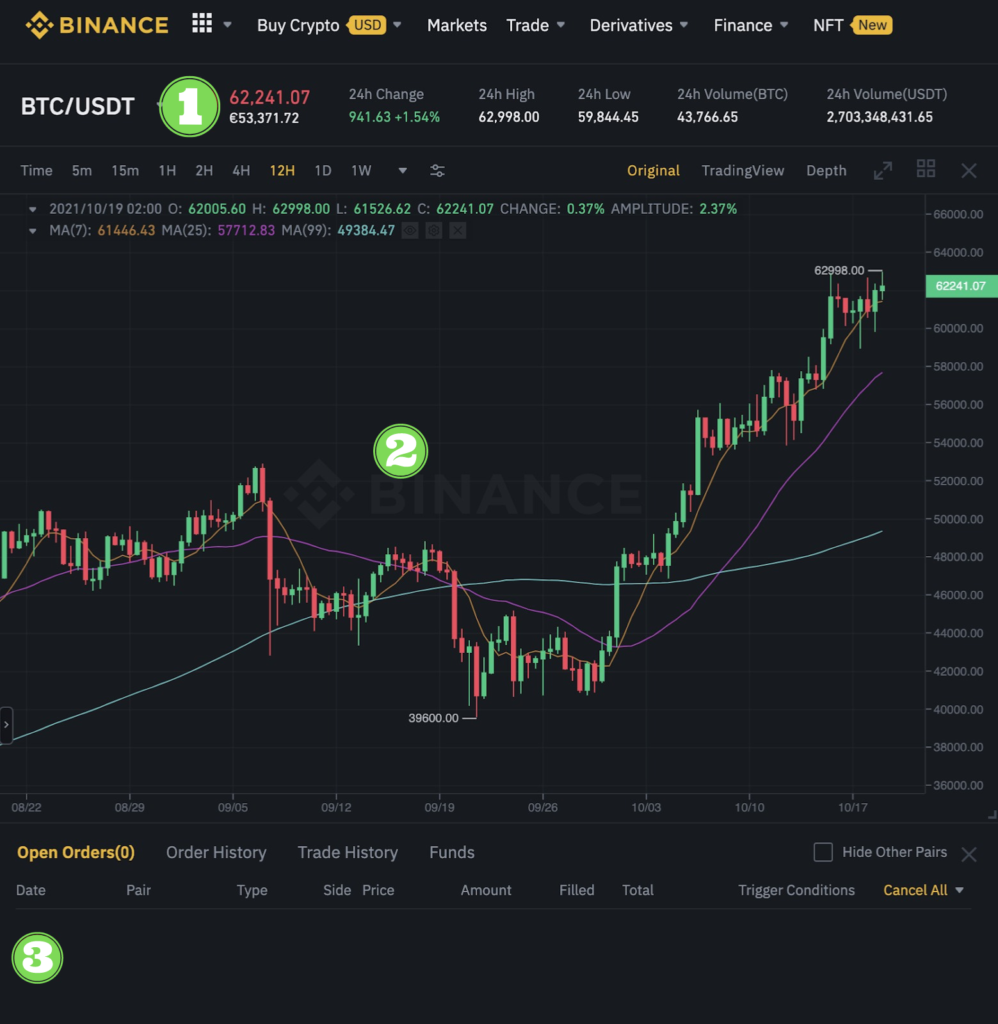 This bar, located at the top of the graph panel, displays the current market price, as well as 24 hour price and volume trends.
A graphical display shows the price relationship between two assets. Graphical tools are provided by the tool TradingView.
All orders that have not yet been processed are displayed in the order section. You can also consult your order history, your transaction history and your fund history.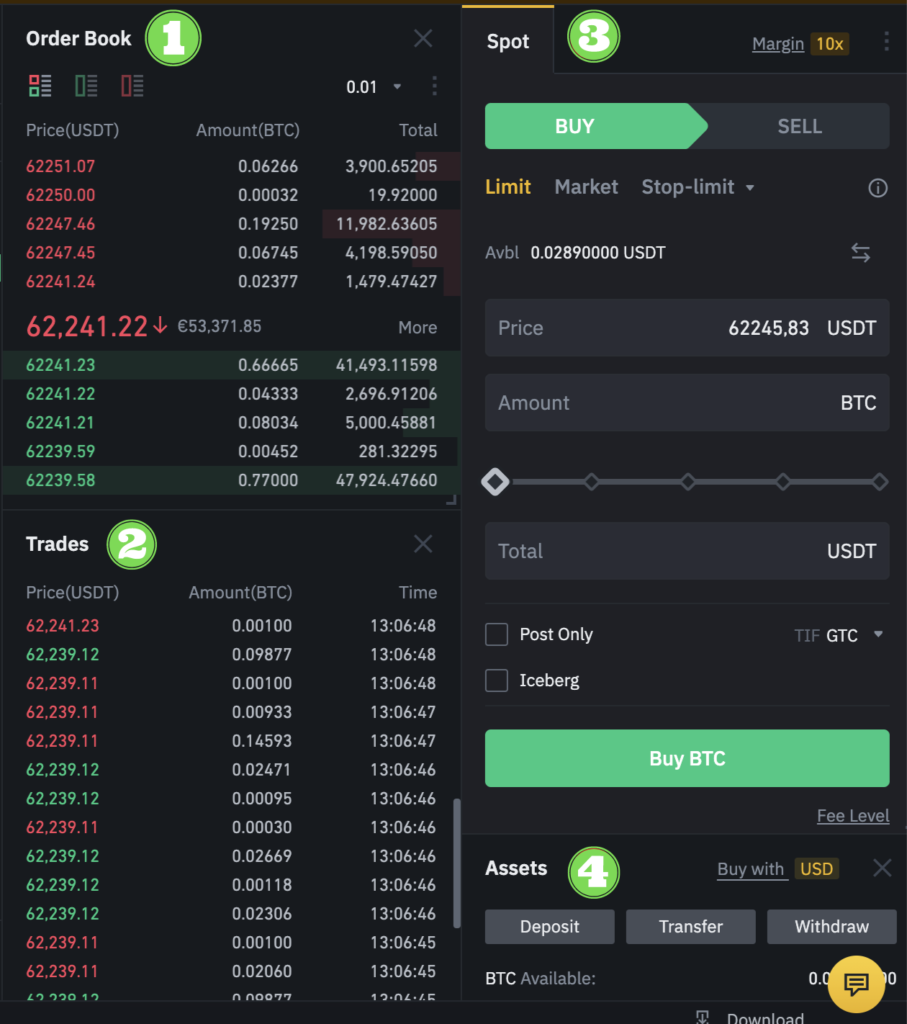 The section " Order book "provides the detailed prices and volume lists. In red, open sell orders are displayed at different prices. The green below is an open buy order with an ask price. The larger number in the middle is the last traded price.
The section " Spot " creates orders to trade in the spot market. The spot market is the most traditional method of buying and selling, and transactions are settled instantly. On the right side there is a link to the market on " Margin "where you can trade using leverage effects (using funds that do not belong to you). In this section you can also choose from different market orders such as Limit order, them Market orders and the Stop-limit orders. Before using them, make sure you understand their different types of jobs.
This section" Trades ", shows you your last successful transactions but also their price and their volume.
Finally, you will find the section " Assets ". Here you can see the cryptocurrencies that can be exchanged in the wallet[Fiat & Spot]. You can also transfer funds from other wallets and to file Where remove cryptocurrencies.
Binance Review – How to secure your Binance account?
A strong password that you change regularly
Passwords should always contain capital letters and lowercase, of the symbols and figures. Of course, keep it safe and don't share it with anyone.
Two-factor authentication
It is strongly advised by Binance to use two-factor authentication.
This tool provides an additional layer of security. Infact, even if a hacker compromises your password, they will still need access to your physical 2FA device to log in.
The anti-phishing code
Once you have added a anti-phishing code to your Binance account, it will appear at the top of every email you receive from Binance. Codes can be set manually and can be a series of letters or of figures.
This will help you ensure that the messages you receive are from Binance and not from a fake email address. In other words, it helps prevent phishing attacks.
I hope this article has you more and that you now know how to use Binance like a pro. Feel free to share it on social networks or ask your questions in the comments. Don't forget that if you want to use even more powerful trading tools or copy the best Traders, create your account on Wall Of Traders!
---
This article is not investment advice. Do your own research before investing in the cryptocurrency market.
---