FTX review, how to use it:
FTX is a exchange centralized from cryptocurrency like stellar specialized in derivatives and leveraged products.
Founded in 2018 by Sam Bankman-Fried, an MIT graduate and former international trading fund trader at Jane Street Capital.
FTX offers a variety of products from trading, of the derivative products, options, volatility products and leveraged tokens.
They also offer spot markets for over 300 cryptocurrency trading pairs, including BTC/USDT, ETH/USDT, XRP/USDT, and the native token FTT/USDT.
Bahamas-based FTX and its US subsidiary, FTX have overlapping management teams. But different capital structures.
---
FTX review: The basics of the FTX exchange platform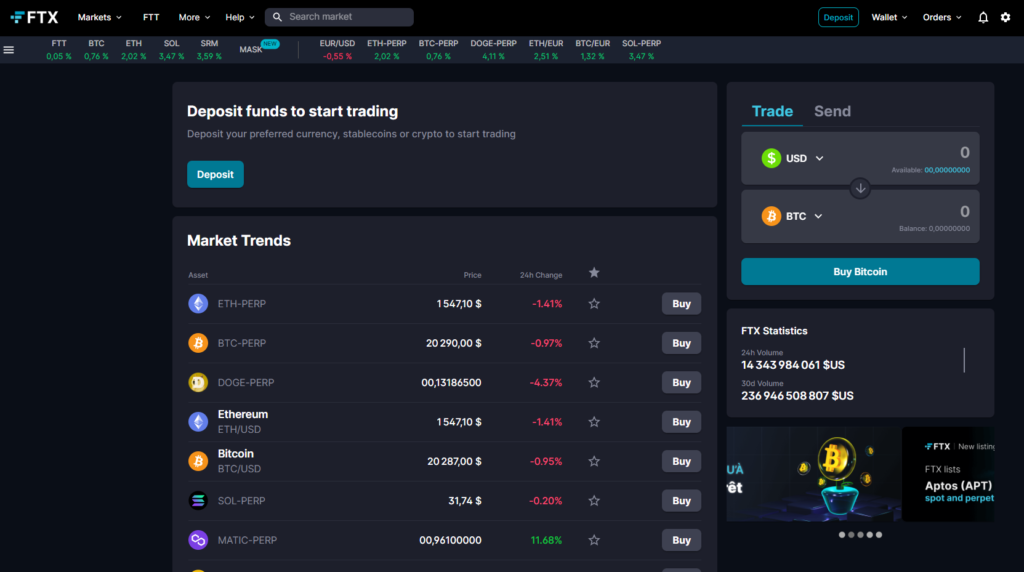 FTX's wide product range and easy-to-use desktop and mobile trading apps are attracting investors in crypto of all skill levels. From novice to seasoned professional, or in terms of crypto newbie to whale.
The FTX platform offers a range of order types, from simple market orders to more complex trailing stop orders.
FTX supports nine fiat currencies that investors can deposit and withdraw via wire transfer. the American dollar, the euro, the pound sterling, the Australian dollar, the Canadian dollar, the Swiss franc, the brazilian real, the Ghanaian cedi and the Argentinian peso.
Turkish lira and Japanese yen are also of limited use. While the Hong Kong dollar, Singapore dollar and South African rand will soon be functional.
---
FTX review: What does FTX actually do?
Before doing an FTX tutorial, you must already know what this exchange consists of. The platform is therefore a exchange like Bitstamp cryptocurrency that facilitates liquidity and transactions for coins and tokens. FTX allows users to connect their wallets, transact, trade digital currencies, enter into derivative contracts, or buy/sell NFTs.
---
FTX review: The advantages and disadvantages of FTX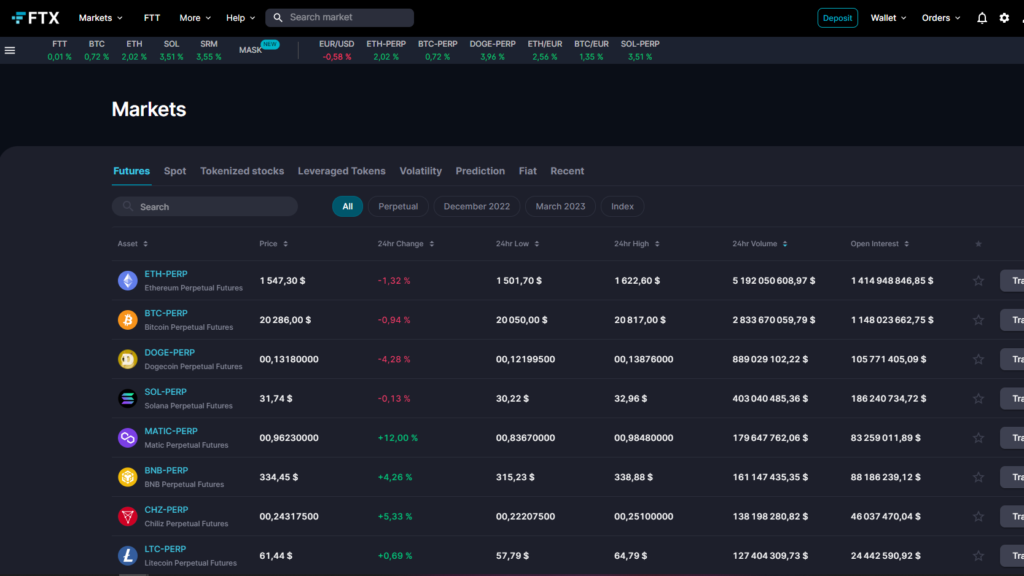 Benefits
FTX offers reasonable transaction fees compared to other exchanges. cryptocurrencies. The exchange also touts its mobile app, advanced trading capabilities, and the ability to trade hundreds of different tokens.
FTX also offers several rewards under its VIP program based on trading volume. For example, entities rated VIP 1 have a taker commission of 0.0375%. It is possible to upgrade to VIP7 (with a total volume of 2.5% of the exchange volume). This reduces the taker's commission to 0.025%. A similar tiered system exists for market makers.
Additionally, there are additional benefits when these entities have an FTT. Owning an FTT for $10,000 gives a 15% discount on the commission. Possession of an FTT for $100,000 gives a 25% discount.
FTX offers users a unique affiliate link. When new users sign up using this affiliate link. The inviting user will receive 25% to 40% of the new user's commission. This depends on the amount of FTT bets. In addition, they will be reimbursed 5% of their fees.
FTX also reserves the right to reward users with rewards additional depending on the number of sponsorships, user generated volume or other criteria.
The disadvantages
Exchanges have a few potential downsides. FTX encourages its users to ask for help using the support tickets. For those who prefer more direct contact such as chat support, other exchanges may be more appropriate. Also, US residents cannot use FTX's global platform. In contrast, US residents must use FTX US for regulatory reasons.
Although FTX offers a wide range of products from trading, some newcomers to the field may find the interface or options too extensive. FTX is often considered the best option for traders more experienced. While it may be less suitable for beginners. Although FTX boasts low transaction fees, they are often lower on other exchanges.
---
FTX review: Regulations
FTX is registered at Antigua and Barbuda and has its registered office at Bahamian after leaving Hong Kong in September 2021. Its division FTX Digital Markets Ltd. which is regulated by the Bahamas Securities Commission. The exchange does not offer services to US residents.
US crypto traders can access FTX US, a FinCEN-registered money services business. In October 2021, FTX US completed the acquisition of LedgerX, renaming it FTX US Derivatives. FTX US Derivatives is licensed by the Commodity Futures Trading Commission (CFTC) of the United States as a derivatives clearing house, swap execution service and special contracts market.
---
FTX review: The taxes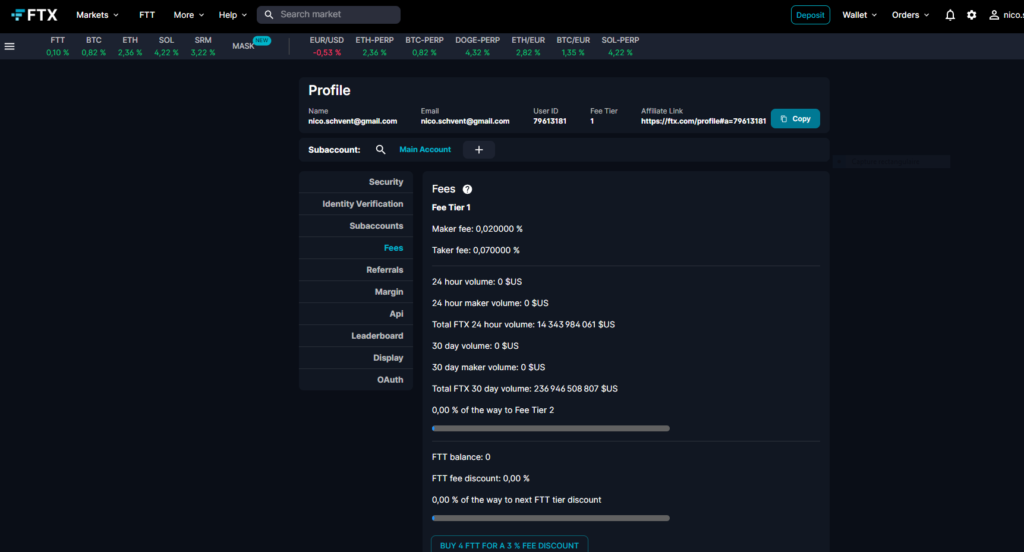 As of September 2022, the commission for trading in the FTX Competitive Futures and Spot Markets ranged between 0.04% and 0.07% for market makers, according to the maker and taker model. As for leveraged tokens, they come with a creation and redemption fee of 0.10% and daily management fees. 0.03%.
FTX does not charge deposit or withdrawal fees for most crypto-assets. All bitcoin payments above 0.01 bitcoins are free, as is a withdrawal of less than 0.01 bitcoins per day. A 0.1% fee is charged for additional small bitcoin withdrawals.
All withdrawals over $5,000 in fiat currency are free. Just like a withdrawal per week of an amount less than this sum.
US FTX trading commissions for market makers ranged from 0.05% at 0.2% in September 2022. Also, fiat currency deposits can be made by wire transfer, ACH, debit or credit card and via the Silvergate exchange network.
Credit cards can be used for cash withdrawals. Withdrawals of more than 5000 USD by bank transfer are free. One withdrawal per week below this amount is also free. But additional withdrawals are subject to a $25 fee.
No deposit fees are charged for blockchain transfers. FTX US pays blockchain fees for all token withdrawals except ERC20/ETH withdrawals and small bitcoin withdrawals.
Fees for Non-Tradable Tokens (NFT) may vary depending on the platform and the place of negotiation. For FTX users at United States, an NFT registration using a self-service tool costs $1 and the seller takes 2% on each sale Where transaction.
The non-US platform, FTX, charges a commission of 5% to the buyer and seller on each side of the transaction.
---
FTX review: Security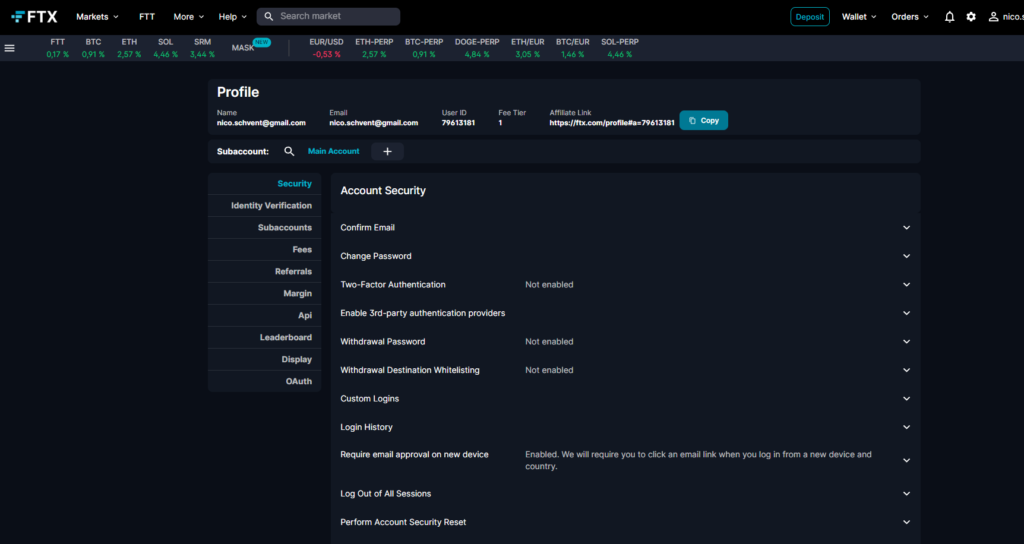 The exchange can boast of having risk management features in three main areas: personal accounts, exchanges, and other security areas.
Account Security
In order to register an FTX account, the company requires a combination that meets complex requirements in terms of characters. It analyzes password requests for predictable patterns; any account that does not meet the requirements cannot be registered.
FTX also requires users to set up a two-factor authentication (2FA). The 2FA system is required for all tracks. FTX blocks withdrawals for an account if the account removes 2FA details or if the account password is changed.
FTX monitors and tracks user activity to detect suspicious behavior. If FTX detects an unusual login attempt, FTX will notify the account holder to verify the successful login.
Trade security
FTX contracts with chainanalysis to identify potentially suspicious business activities. Chainanalysis is a fight solution against real-time money laundering that monitors large deposits or unusual activity.
FTX also operates the FTX Backstop Liquidity Fund to ensure the availability of liquid assets to facilitate trading. In September 2022, FTX's cash balance was around $200 million.
Other security features
FTX allows users to create their own logins using sub-accounts. Sub-accounts allow multiple people to access the same account. however, each user will have permission levels customizable and configurable. Each login can be assigned read-only. He cannot carry out transactions, but can consult activity history. In addition, different logins may have different degrees of withdrawal capability.
FTX also allows users to set security permissions for Internet Protocol (IP) or wallet addresses. This ensures that only specific internet addresses or wallets can perform transactions on a particular account. We will now move you to the FTX tutorial.
---
FTX review: How to transfer funds to FTX?
To start the tutorial, know that you can buy cryptocurrencies on FTX. You must first deposit funds into your account.
To get started, access your wallet by clicking on the "Wallet" at the top of the FTX interface.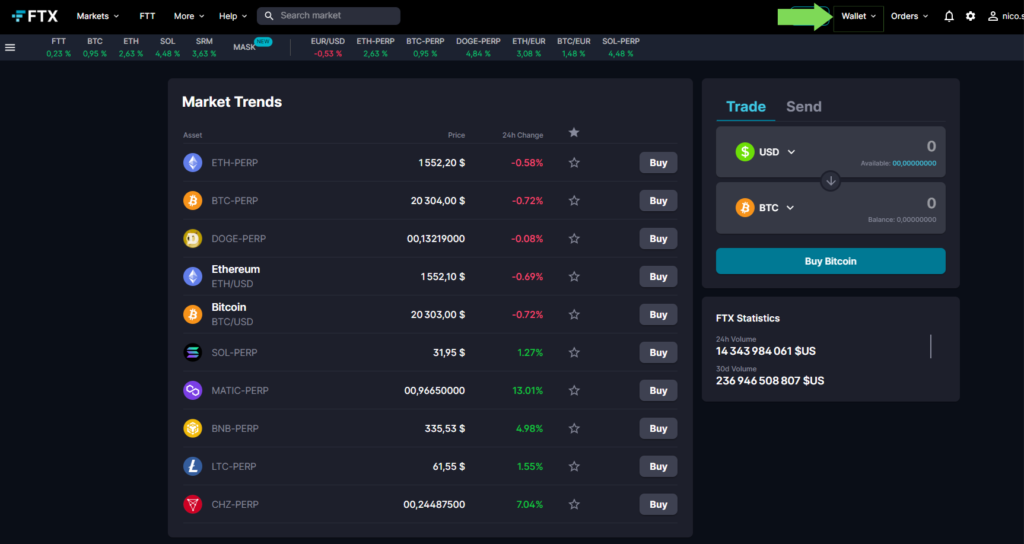 Once in the wallet, you will have access to a very long list of cryptocurrencies such as Bitcoin Where Tether as well as currencies fiat such as dollars and euros.
Then, if you want to add euros to your account, you must click on the button "Deposit" in the line "Euros (EUR)". You can then send euros to your FTX account.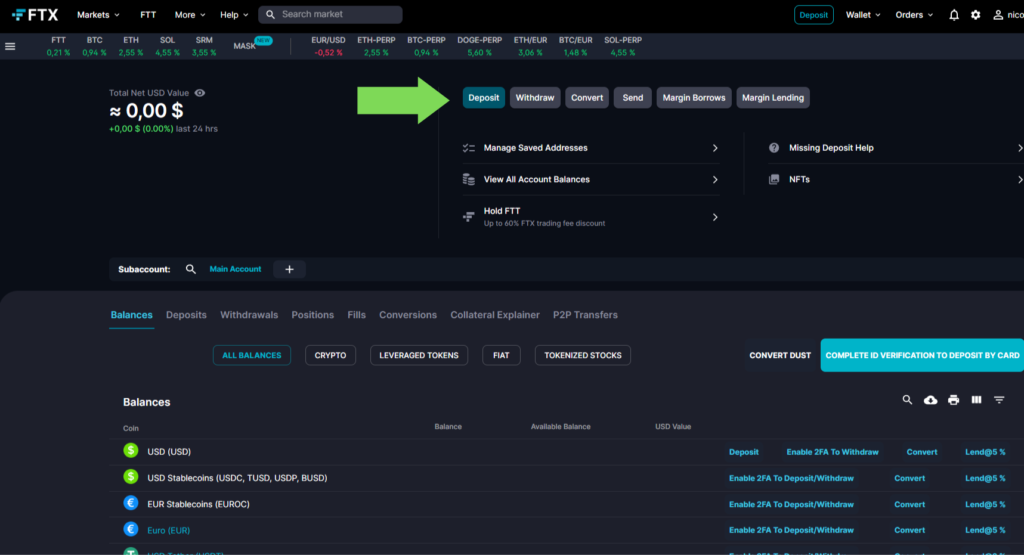 Please note that to access fiat currency transfers, you must have reached the identity verification level 2.
If you already own a cryptocurrency and want to start your FTX adventure, you can fund your FTX wallet through blockchain transactions without bank transfer banking or level 2 verification.
You can also use the wallet to trade between different currencies and buy other cryptocurrencies from fiat currency or cryptocurrency of your choice.
---
FTX review: How to place a trade on FTX?
To place a trade on FTX we advise you to use the Wall Of Traders Smart Trading.
You will first need to create an API key by going to "External Program" on FTX. Choose Wall Of Traders, then create the API key.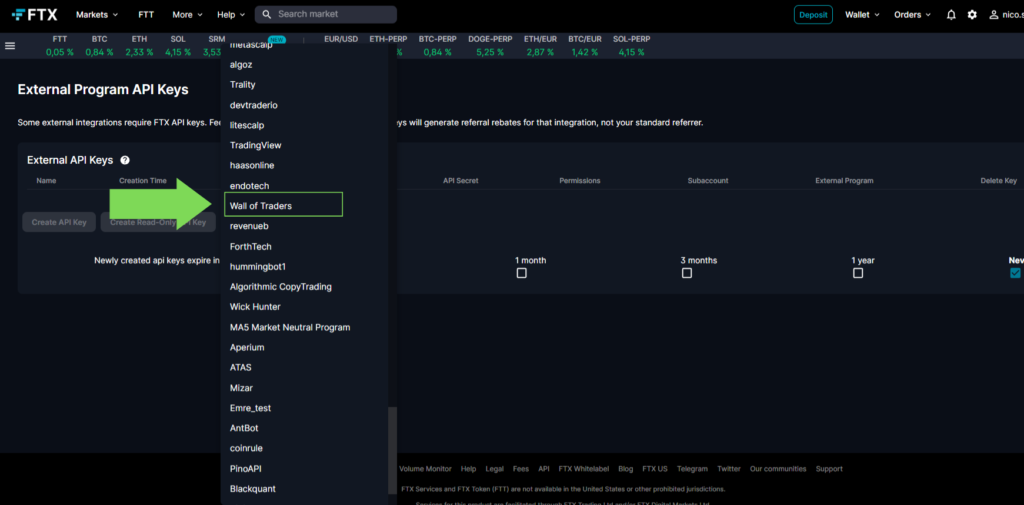 Then go to Wall Of Traders in "Account" to create a new exchange via FTX.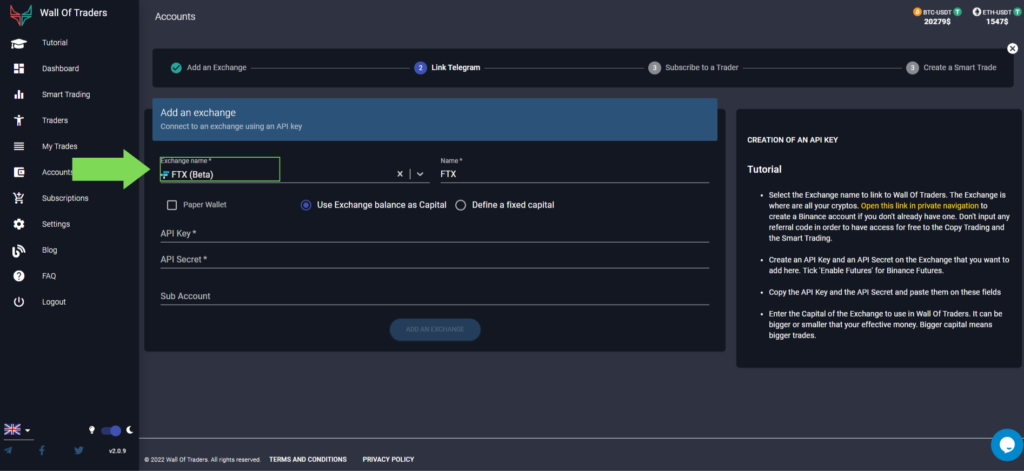 Finally, go to the "SmartTrading" and create your trade, if you want more explanation on this subject, I invite you to read This article on smart trading
---
FTX review: Why use the Wall Of Traders trading terminal to trade on FTX?
With Wall Of Traders, it is possible to:
Set multiple Take Profit for to secure gradually gains.
Set a Stop Loss
Add a trailing to Take Profit and Stop Loss to increase in long mode and decrease in short mode. This allows you to maximize your earnings and take advantage of Bull Runs and Bear Runs.
Define a trigger or a Trigger threshold to open trades at specific times. For instance, to break a resistance or one support.
Set a Timer to automatically cancel or sell trades after a set amount of time
Draw chartist figures on built-in TradingView charts
Edit, to cancel Where Panic Sell one-click sales offers
Show maximum trade loss and ratio reward / Risk or the report profit / loss
Receive telegram-notifications at each entry, Take Profit and Stop-loss realized
Automatically copy trades from top traders with FTX
Create your own trading groups so that your followers and friends can automatically copy exchanges without being in front of their screen
---
I hope you enjoyed this FTX tutorial and that it helped you. Do not hesitate to consult our other blog posts, I'm sure they will be very useful to you!
---
---
This article is not investment advice. Do your own research before investing in the cryptocurrency market.