Thanks to our partnership with Binance, we can allow you to create a Binance subaccount. And this, even if you are only VIP 0, that is to say in the lowest slice. VIP 0 is more than 90% of Binance users.
And thanks to this partnership with Binance, we can offer you our trading platform for free. It will allow you to copy the best traders thanks to Copy Trading. And to use a very powerful Smart Trading terminal.
---
Complete the Binance subaccount creation request form
Login to your Binance account and complete this form.
Users with more than $10,000 in assets or volume in the last 30 days are qualified for the subaccount.
For question 5. answer: Wall Of Traders
Finally click on Submit in the form.
That's all!
Binance will then create your subaccounts for you within a few days. You will receive a confirmation email.
---
How to use a Binance subaccount?
Once you have completed the creation request form, then received the email from Binance confirming the opening of the subaccount, you will see it appear in your Binance dashboard a Subaccount section.
1) Create a Binance subaccount
Click on the Subaccounts section of your dashboard then click on "Account management".
Click on "Create a subaccount":

In the next pop-up, select "Create with virtual email" and fill in the name of this subaccount then click on "Create a subaccount":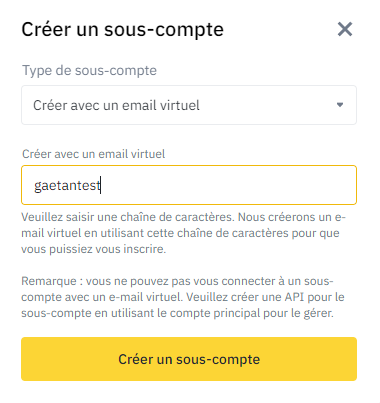 Click on the 3 small dots to the very right of your subaccount:

Click on "Activate a Future contract" to enable futures contracts. In other words, to be able to use Binance Futures on this subaccount:

---
2) Transfer funds from the main account to the subaccount
Then click on Asset management. For the subaccount to fund, click on "Incoming transfer":

On the next screen, fill in the transfer conditions. For example from your main Spot account to your Futures subaccount. Click on "To confirm" to finish.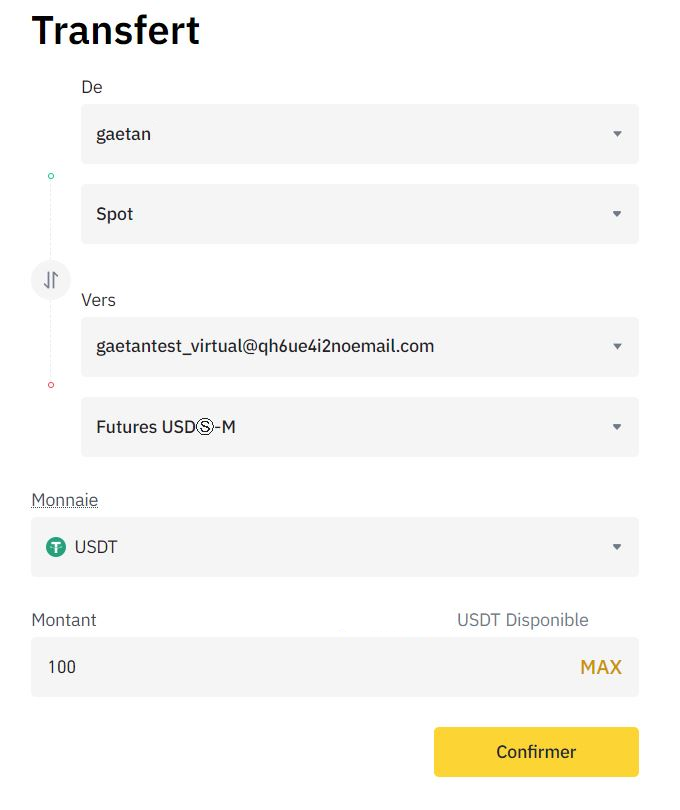 ---
3) Create an API key for the subaccount
Then click on API Management. Click on "Create an API":

Select the subaccount you have just created, fill in a label for the API key then click on "following":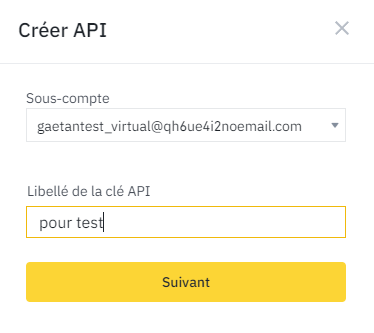 Complete the security information like the puzzle, the code received by email and the 2FA code.
The API Key is successfully created! Then click "To modify" to change the restrictions.
In the API key created for your Binance subaccount, ensure that:
'Enable spot and margin trading' is checked for Binance Spot
'Enable futures contract' is checked for Binance Futures
'Allow Withdrawals' is NOT checked
'Restrict access to trusted IP addresses only (recommended)' is checked. The API key is allowed only for the following IPs separated by a space. You can copy-paste the line below:
54.38.230.54 145.239.120.101 147.135.182.132
This last step of adding IPs is necessary if you want to use it on the Wall Of Traders platform. And it's safer for you.
It's perfect ! You can now use this API key. Firstly create an account on Wall Of Traders. Then add the API key of this subaccount.
You can then copy automatically and for free the best traders. And use a powerful Smart Trading terminal multi Exchanges.
---
Why Use a Binance Subaccount?
You can create up to 30 different subaccounts. Thanks to this, you can establish a different strategy for each subaccount.
For example, your 1st subaccount may allow you to HODL some of your cryptos. HODL means to hold for the long term.
Your 2nd subaccount can allow you to create your own personal trades.
The 3rd subaccount can allow you to copy a trader from Wall Of Traders, for example Hodloo Binance 5. Your 1st HODL subaccount will therefore not be modified by these trades.
Your 4th subaccount can allow you to copy another trader from Wall Of Traders, for example Hodloo Binance 10.
Finally your 5th subaccount can be used for copy a trader from another trading platform.
To use a copy trading service or smart trading terminal external to Binance, you will need to create an API key for each Binance subaccount.
---
We hope this tutorial article has you more. If you have any questions, post it in comment. You can also share this article freely !
This article is not investment advice. Do your own research before investing in the cryptocurrency market.