How to buy Bitcoin is a question that most people ask. It is easier that it seems. Bitcoin is the first and still the biggest cryptocurrency that was made. It all started in 2008 when an anonymous person or group named Satoshi Nakamoto produced a white paper on Bitcoin.
Bitcoin has risen in value and has surpassed $60,000 in 2021. Other developers who came after Bitcoin tried to create coins with the same concept. While others have tried to create coins and platforms that solve problems that Bitcoin has been facing. All other coins after Bitcoin are known as Altcoins they are an alternative to Bitcoin.
Bitcoin has been increasing in value, it has entered the forex market and it can be traded in the cryptocurrency market. It is now being used for apart from trading, buying and selling, storage of value just like gold and other precious stones. With a price below $300 in 2013 and over $60,000 in 2021, Bitcoin has proven to be a storage of value. News on Bitcoin has been on the media, the percentage of people who haven't heard about Bitcoin is getting smaller every day.
There are several ways to acquire Bitcoin, one common way is mining. Mining is common although it requires a lot of energy and knowledge to execute. The easiest and quickest way to acquire Bitcoin is through buying. There are several platforms on which anyone can buy Bitcoin. Here are the most popular and the safest.
---
Binance: how to buy Bitcoin?
Binance is the biggest platform for users to buy and sell not only Bitcoin but any other cryptocurrencies. It is easy for beginners and efficient to use. It supports several languages making it efficient for different regions. The security used on the Binance platform ensures safety. You can use 2FA as Google Authenticator or phone number.
First register on Binance. We advised not to enter any referral code so you will be able to use for free the Wall Of Traders crypto trading platform. You can copy the best Traders automatically, day and night. It is free because Wall Of Traders is member of the Binance Broker Program.
Then hover on "Buy Crypto" on the top left bar and click on the preferred method: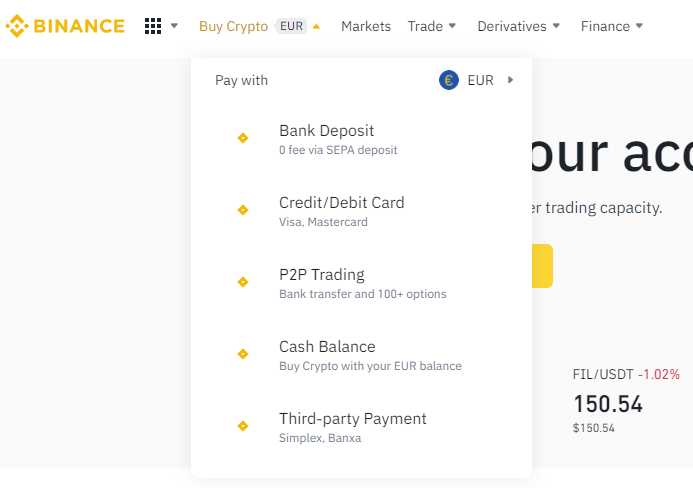 For any method, you would be ask to verify your identity. Verification is easy, it requires a photo of the user where an Identification card can be used.
A user can buy Bitcoin through the following ways on Binance.
---
Bank Deposit
This is the cheapest way to buy Bitcoin. Binance offers two options when using this method which is either depositing from a bank card which attracts a 1.8% fee for the transaction, or fast payment which is free of charge. The problem with this method is that it takes a longer time for money to reflect on the Binance account, it takes up to 4 days depending on the amount being deposited. After the payment has appeared, one can purchase Bitcoin using the currency they chose.
---
Bank Credit or Debit card
Paying for Bitcoin using a credit or debit card is just paying using fiat money. This process is simple, it only requires that you have a valid bank card with money. You can then decide the currency you want to use for the payment. Binance has its most current exchange rates, there is, therefore, no need for anyone to worry about the currency they are using. This is as simple as buying anything using your bank card at an online store like eBay. One will be asked to verify or confirm payment details which are the card details then follow the security measures that they have used before the payment is accepted. Please note that using a credit card attracts higher fees.
---
Convert currency
This involves changing one cryptocurrency that a user owns on the Binance platform to Bitcoin. For example, if you have Ethereum, you can convert it to Bitcoin. Binance controls the exchange process. Binance will do the calculations for the exchange and the user will receive the amount of Bitcoin as per the amount they wanted to convert. This is faster compared to cash deposits.
---
Kraken: how to buy Bitcoin?
Kraken is a trusted platform for trading cryptocurrencies after Binance. It has gained trust over the years and it offers simple ways for buying Bitcoin. Many ways can be used to buy Bitcoin on Kraken the simplest being using bank credit or debit card. The setup process is simple and the security is legitimate. The biggest problem with buying Bitcoin on Kraken is the lack of control over the exchange rate.
Another way to buy Bitcoin on Kraken that is cheaper is trading. Click on the trade column on the top left corner of the Kraken home, and go to simple trading, new order then click buy. This method allows one to be in control of the exchange rate that is available in the market.
Kraken offers an intermediate type of trade for buying Bitcoin and other cryptocurrencies. Select new order then intermediate. On intermediate one has options to choose the order type, whether market or limit order. The intermediate level also allows one to command the time they want a trade to start, whether immediately, or they can customize the time to their preference. The order can also be set on when it expires.
On the advanced level, Kraken has a conditional close, where the order type has stop loss, take profit, limit, and settle position. So the user decides how to cancel the trade. As its name, advanced is good for users who understand how it works. After placing orders one can watch at the orders tab and close whenever they are satisfied.
---
Coinbase: how to buy Bitcoin?
Coinbase does not offer many options for buying Bitcoin. First register. The easiest way to buy Bitcoin is through bank card. One needs to link their card to Coinbase to have instant ability to purchase Bitcoin after setting up their details.
---
In conclusion, if anyone is considering buying Bitcoin, the best and easiest platform to use is Binance. Binance is easy to use, transparent and very secure.