Wall Of Traders is the best Trading platform on cryptocurrencies which is free, intuitive, powerful, complete, with very responsive Support in French, English and Russian.
Created in 2018 by French engineers, it has a very good reputation in the world of Social Trading, whether beginners or experienced. Everyone here has the same goal: to earn money!
Offering portfolio management to bring all your cryptocurrencies together in one place, advanced Smart Trading tools, a Copy Trading bot and a Telegram Notifications bot, it is the complete solution to make your Crypto Trading a success with ease and safely with crypto signals.
Free is made possible by the fact that we are an official Binance partner and they pay us part of the trading fees. But for you, the trading fees don't change whether you trade on Binance or on Wall Of Traders.
To follow the articles properly, we recommend that you open a free account on Wall Of Traders.
If you click on the blue or yellow headings in the content of this article, you will be able to access more detailed tutorials and articles. Here we go over the main themes to fully understand Wall Of Traders.
Good discovery !
---
Chapters
The 4 free social trading tools from Wall Of Traders

Set up your account to use Social Trading: Smart Trading and Copy Trading

How to do Social Trading for free?

Complete Tutorial on Smart Trading

Tutorial on Binance Futures

Differences with other Social Trading platforms
---
The Social Wall Of Traders Trading Platform is among the free solutions, the most complete and efficient platform to speculate. It indeed contains 4 main tools.
---
1) A Portfolio to follow the cryptocurrencies of all your exchanges, private portfolios, Ledger Wallet, Ethereum addresses …
The Portfolio allows you to follow in the same place on the trading website Wall Of Traders in the "Accounts" Menu or in the "Dashboard" Menu all of your cryptocurrencies that you have on your:
Ethereum addresses (no need to go to Etherscan anymore!)
private wallets like Jaxx or Exodus
off-chain tokens : tokens that are not accessible on the Web like those we have on a Ledger Wallet
A CoinMarketCap personalized to the amount of cryptos you own and a graph of the evolution of your cryptos are included in the Portfolio.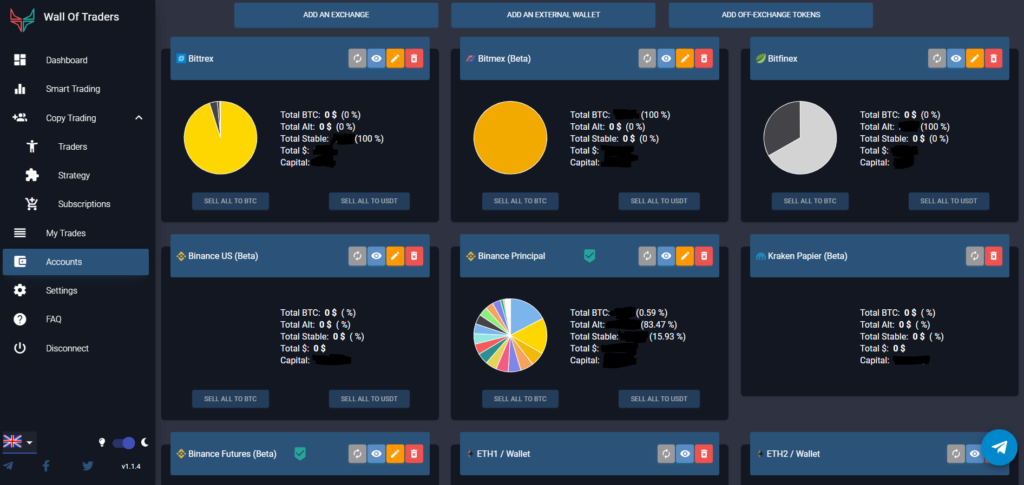 ---
2) Very powerful advanced Social Trading tools on multi exchanges. We will call these tools Smart Trading. They allow in particular to:
Do Multi-Exchange Trading (Binance, Binance Margin, Binance US, Binance Futures, Huobi, Bitfinex, Kraken, Bitmex, Bittrex) in one place.
take a long position with or without leverage to buy low and sell higher.
take a short position with or without leverage to sell high and buy lower.
place one or more Take Profit (TP) and Stop Loss (SL) at the same time, the 1st reached canceling the other.
add a Trailing on Entry, Take Profit and Stop Loss, which is an automatic movement of the order following the market price.
follow in a visual, simple and intuitive way the Trades in progress and completed.
modify, cancel or sell immediately to the market (Panic Sell) his transactions with one click.
replicate this order on the portfolios of all the followers of his trading group.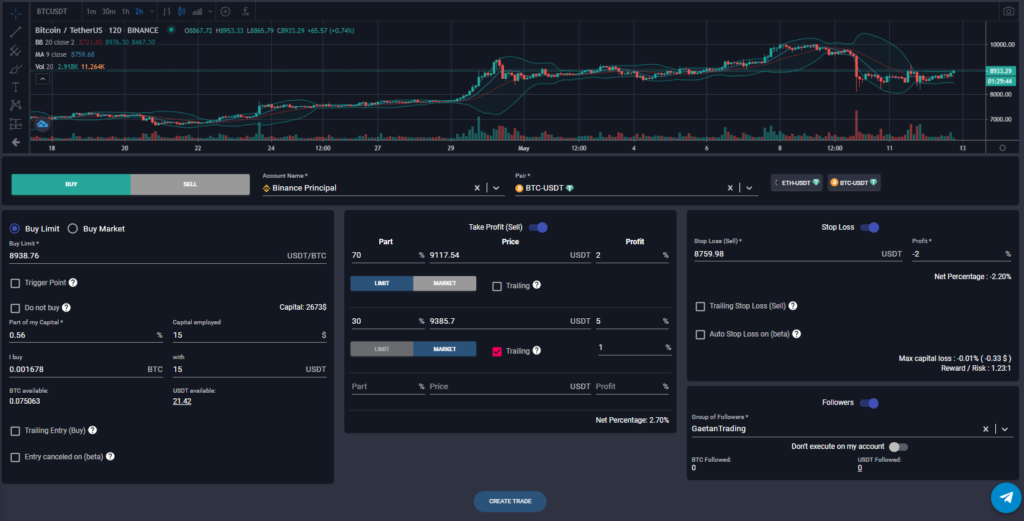 ---
3) A Copy Trading bot to replicate the Trades of the best Traders of your choice on your portfolio.
The best traders such as CrypTrader or Hodloo have performed fairly consistently month after month. An investor should look carefully at these numbers.
Technologies made + 20.8% average monthly profit on Global Capital from January to May 2021.
Hodloo Binance 5% made + 67.67% total annual profit on Global Capital in 2019.
No matter how much Capital you have, the amount of risk on each trade is proportional to the Capital you allocate to the Trader or the trading bot you are copying.
---
4) A Notifications bot on Telegram allowing you to be alerted to each order created or reached, and to see the profit made.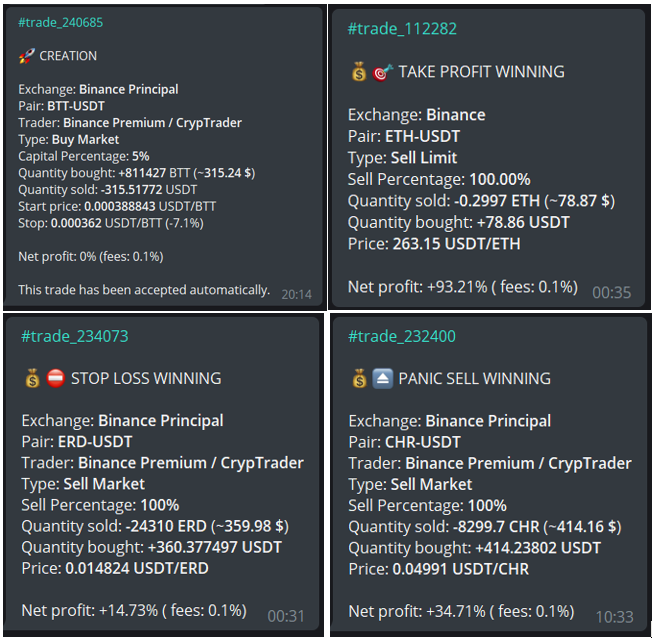 ---
The front-end, which is the interface you see on screen, is coded in React.JS, which is JavaScript with a library of very intuitive and powerful rendering tools.
The backend, which is all the calculations which you cannot see and which allow us to place Trades on the Exchanges, is coded in C # (read "C sharp").
---
Setting up your account is an essential step in order to benefit from all of Wall Of Traders' automatic trading tools.
In a few simple steps, learn how to set up your account:
Create an account on Wall Of Traders.
Create an API key on the exchange of your choice.
Link your Wall of Traders account to one or more Exchanges.
Choose a fixed capital or a dynamic capital.
Link your Wall of Traders account to Telegram to receive trading notifications on mobile or desktop. This is an optional but very practical step.
And for Copy Trading, a few more steps:
Check your Exchanges and Cryptos.
Allocate a Capital to it.
Choose full automatic or semi-automatic mode.

Define a Strategy (optional).
If you have any doubts about setting up your Account, do not hesitate to ask us the question in the comments, by email or on Telegram.
---
The Binance Broker Program
Binance has identified Wall Of Traders as safe, efficient, and useful for Traders. They contacted us and offered us a partnership.
That's how in March 2020, one year after the official launch of Wall Of Traders, we joined the Binance Broker Partner Program. The Broker is Wall Of Traders. We are an intermediary between you and the Exchange to take advantage of features that the Exchange does not offer.
Thanks to this program for the brokers, we can provide you with the full functionality of Wall Of Traders without having to pay a dime. Not bad, isn't it ?
To be transparent with you, Binance pays us part of the trading fees. This allows us to offer you the 4 Crypto Trading tools on Binance, Binance Margin and Binance Futures for free. These fees do not change whether you trade on Binance exchanges or Wall Of Traders.
Since over 90% of Wall Of Traders users only use Binance, this win-win operation should appeal to the vast majority of you. You have access for zero cost to a Trading platform which has been in full-time development since September 2018 by 2 engineers. We are rewarded for our work thanks to the Trading fees that Binance gives us back.
You will not pay more fees, it does not change anything for you. Finally, yes, it gives you free access to very powerful trading tools that Binance does not initially offer!
To do this, you just need to have created a Binance account after March 2020, without a referral link, in private navigation, and not empty. If in doubt, try accessing Wall Of Traders Smart Trading. If you are asked to pay, your Binance account is not eligible. To do so, simply create a new Binance account without a referral link.
---
Steps to transfer your cryptos to an eligible Binance account
In this tutorial article that can be done between 10 and 30 minutes (click on the blue or yellow title a little more above to access it), we will accompany you step by step in the creation of a new Binance account and the transfer of your cryptos on this account. Here are the few steps:
log into your current Binance account in private browsing.
note the amount of each crypto you own.
convert each crypto to BTC, ETH, BNB or USDT (transfer fees close to zero).
convert all residuals to Binance Coin BNB.
create a new Binance account without a referral link in private navigation.
transfer the cryptos from the old account to the new account.

convert the received crypto into each crypto of the amount you owned.
link the new Binance account to Wall Of Traders by API.
---
Smart Trading can be confusing the first time around, but in a few minutes, thanks to this detailed tutorial, you will understand all its power and ease of use.
We will in fact review the interface and where the different elements are located.
In detail, you will see which type of order to choose and in which case. You will see in particular:
the choice of Exchange and Pair.
the difference between Buy / Long mode and Sell / Short mode.
that we can put Take Profit (TP) of sell but also of buy.
that a Stop Loss (SL) can be a sell but also a buy, and that it allows to take a limited risk.
how to buy or sell crypto and put in TP and SL, or without putting any.
the ability to put TP and SL on crypto you already own.
how to modify, cancel or sell at the market (Panic Sell) a pending order.
that we can use the TradingView graph and change the type of graph, draw trend lines, use indicators: in particular Relative Strength Index (RSI), Bollinger bands, EMA, Moving Averages, MACD, etc.
We listen to our community, so contact us if you have any suggestions for improvements, new features, or if your preferred Exchange is not yet available on the platform.
---
Binance Futures is a separate exchange on Binance, in a separate market from the regular Binance Spot, but with just as much liquidity. The two great advantages are to be able to:
put leverage from x1 to x125 to increase your gains (but also your losses …) and profit from volatility.
short cryptos on all pairs, which is, betting on the downside.
We will see in this tutorial how to:
create an account on Binance Futures.
transfer funds from Binance Spot to Binance Futures.
create an API key on Binance Futures.
place a Trade on Binance Futures.
take a Long or Short position.
manage leverage.
know the concept of liquidation.
choose the type of margin, crossed or isolated.
---
Differences with other Social Trading platforms
We are proud of the differences with our competitors. Among the most important:
Free Portfolio, Smart Trading and automatic Copy Trading.
Ultra responsive support and documentation in French, English and Russian.
the performance and intuitiveness of the tools.
zero fees: no deposit fees, no income taxes, no price spreads.
continuous development of new features.
---
We hope you enjoyed this article and will make you want to use Wall Of Traders to take your Trading to the next level and earn more profits.
Share it with others and support us by sharing it on the social network of your choice and sending it to your contacts who may be interested.
To meet the community of English-speaking Crypto Traders, or to ask us for help, join our Telegram group.
Write a comment to share your experience, we will answer all your questions.
How to trade? You would probably be interested in our trading course : how to do cryptocurrency trading.
---
This article is not investment advice. Do your own research before investing in the cryptocurrency market.