The Wall Of Traders cryptocurrency trading platform contains 4 main tools: the Portfolio, the Smart Trading, the Copy Trading and the Telegram Notifications Bot.
The tools of this free crypto broker allow you to use it entirely for the management of all your cryptocurrencies and for your cryptocurrency trading like Bitcoin trading. You will no longer need to connect to your external crypto Signals, Exchanges or Portfolios.
The good news is that your cryptocurrency trading fees do not change! Whether you trade crypto directly on the Exchange or on Wall Of Traders, the fees are the same. On Binance for example, the fees are 0.1% or 0.05% if you pay them with BNB. We are indeed a member of the Binance Broker Program, and one of the main crypto brokers.
It is a high-performance platform that is coded with the latest technologies. This ensures an almost instantaneous execution time thanks to the use of Web Sockets. Your transactions will be processed very efficiently!
---
Chapters
The Crypto Trader Portfolio, to group everything in one place
          One page to see it all
          The details for each Account
                    Exchanges
                    External portfolios
                    Tokens Off-Exchange

Smart Trading, Overvitamin Cryptocurrency Trading
          An intuitive interface
          Smart Trading features

Copy Trading, Automatic Cryptocurrency Trading
          Auto Trading
          How are Traders selected?

The Telegram Notifications Bot
---
The Crypto Trader Portfolio, to group everything in one place
In general, you bought digital currencies on Coinbase and Kraken. You sent some of it to Binance and Bittrex to do cryptocurrency trading. And you sent some of it on a Ledger Wallet or an Ethereum wallet to HODL.
To track the evolution of all your cryptocurrencies, you must then log on to each of these platforms and note their value. But thanks to the Wall Of Traders Portfolio, you have access to everything in one place.
---
One page to see it all
The Portfolio allows you to group all your cryptocurrencies in one place. You can see their evolution over time and their global capitalization in Dollar, Bitcoin and Ethereum. Using the Evolution Chart on the Dashboard: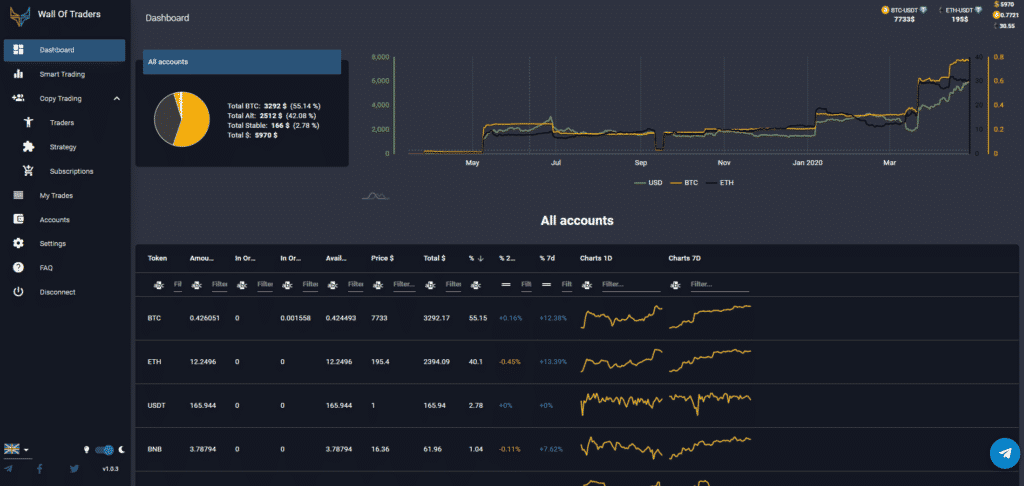 On the left, you see a pie chart with the distribution of all your cryptocurrencies.
On his side, you can see at a glance the Total you own in BTC, Altcoins and Stable Coins.
Below, it's a CoinMarketCap built into your portfolio. Indeed, you see the evolution in % and on a graph of the last 24 hours and the last 7 days. You also see for each cryptocurrency or token the amount you have.
---
The details for each Account
In Accounts, you can add an Exchange, an external portfolio or off-exchange tokens. You will then see on the same page the cryptocurrencies of each Account added.
If you click on the eye
you will have access to the same page as the Dashboard but only for the selected Account.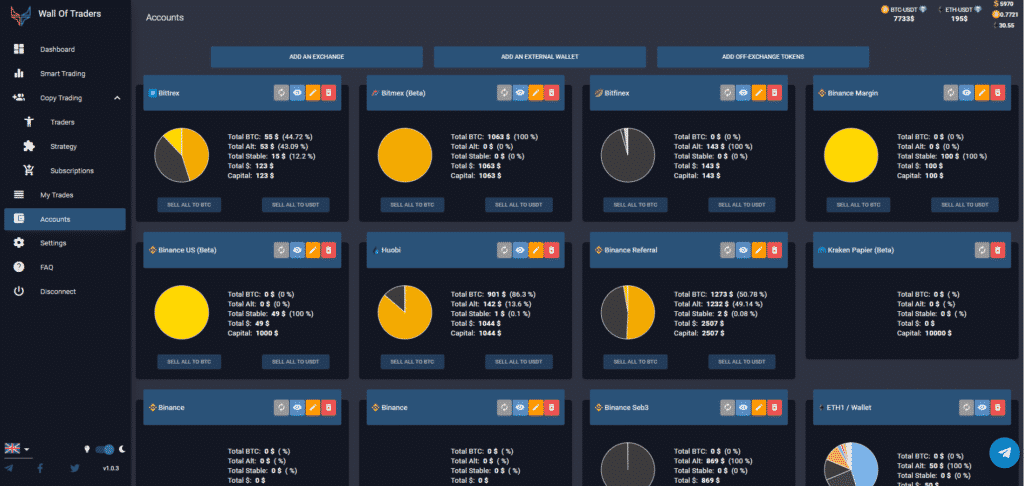 We update Accounts as soon as you place a Trade on WOT, or when an order on WOT is reached (Entry, Take Profit or Stop Loss).
However, in order not to send too many requests to the Exchanges, we update the movements made only on the Exchanges (deposits, withdrawals, past trades on the Exchange) once an hour. If you want to update manually, click the arrows
next to the Exchange to refresh.
To edit an Exchange, click on the Pencil
. You will be able to:
-change his name
-go onto a Paper Wallet (= test portfolio)
-change the capital allocated to WOT
-change API keys if they have expired, for example
To remove a Exchange from WOT, because you no longer use it, just click on the trash can
.
---
Exchanges
By clicking "Add an Exchange," you can add a Binance, Binance Futures, Binance US, Binance Margin, Kraken, Bittrex, Huobi, Bitfinex or Bitmex account by API key.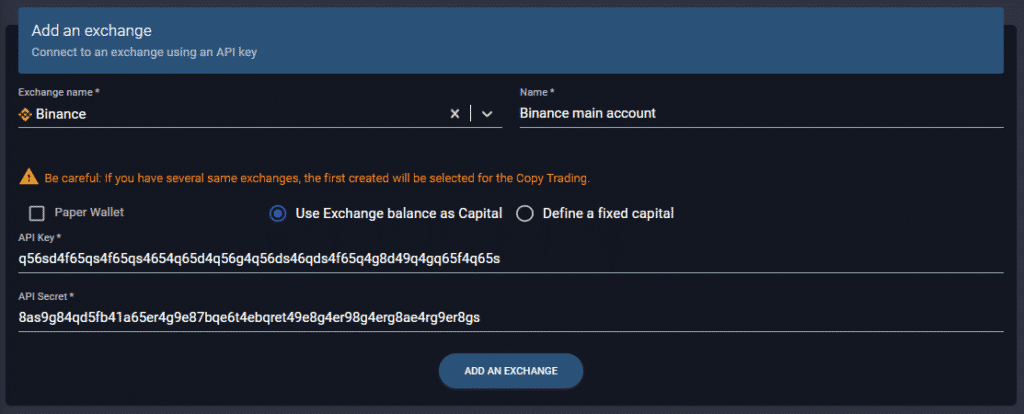 An API key is an ID and a code that you retrieve from the Exchange website, and then enter under "Add an Exchange." With this ID and code, we have access to your Exchange from Wall Of Traders, allowing you to view your cryptocurrencies and to trade directly from Wall Of Traders.
---
External portfolios
By clicking "Add an external wallet," you can add an Ethereum portfolio. No need to use Etherscan for example.

---
Tokens Off-Exchange
By clicking "Add Off-Exchange Tokens," you can add tokens and coins you own to a private wallet such as Jaxx, Exodus or a Ledger Wallet.

The Portfolio is really very practical and saves a lot of time. A single connection on Wall Of Traders to see everything as quick as a wink! Gone are the days when we logged in every day to 10 different platforms.
In addition, Wall Of Traders is mobile-compatible, whether for Dashboard, Account Visualization, Account Addition, Smart Trading or Copy Trading. A gratis trading platform !
---
Smart Trading, Overvitamin Cryptocurrency Trading
Exchange platforms do not offer advanced Cryptocurrency Trading tools. In general you can only place market and limit orders and sometimes you can add a Stop Loss.
But these are not OCO orders (Order Cancels Order) and you don't have the ability to put Trailing to track prices, or put a Trigger Threshold to buy at the break of resistance. And you have access to free trading charting tools.
Note that you can use a real account or a demo account also called a "paper wallet" when adding the exchange.
---
An intuitive interface
In general, you have to go on each Exchange to place your orders. While with Wall Of Traders, one of the best crypto trading platforms, you can trade on multiple exchanges in one place.
Among the popular trading tools offered by Wall of Traders, Smart Trading is the most used. It is indeed unique, much more powerful than the Cryptocurrency Trading tools offered by The Exchanges, and even more intuitive despite its many features.
In addition, on Binance Futures, you will be able to leverage to increase your profits.
Here's it in pictures: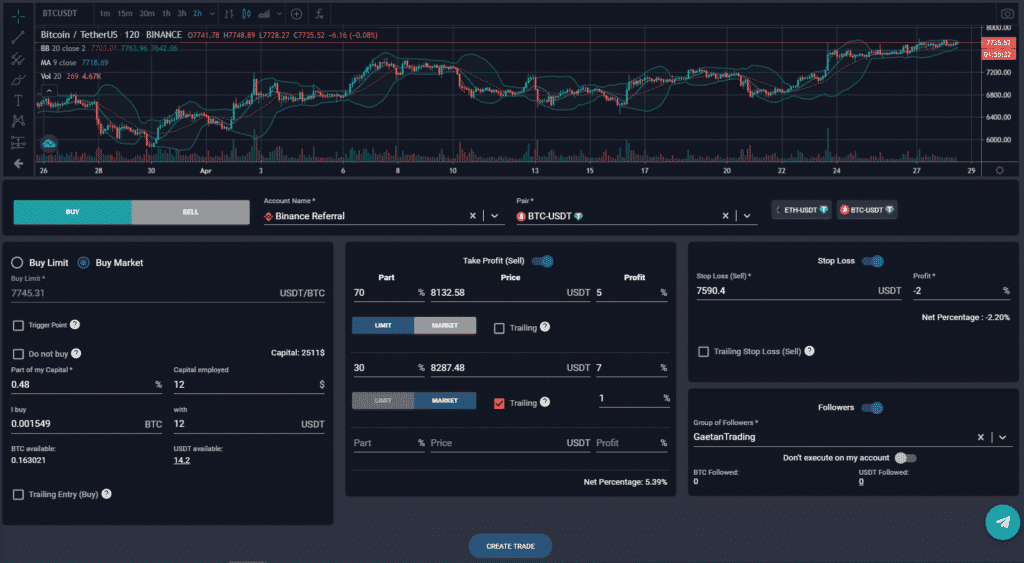 Once you click on Create Trade, you have to confirm the following pop-up where you can write a note: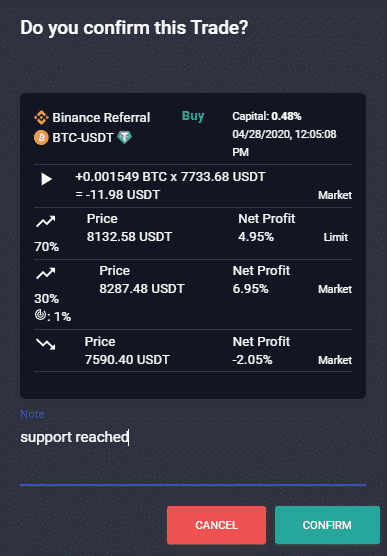 Started in 2018, Smart Trading has required a year of development, and is constantly improving.
Any trader, beginner or experienced, should use this kind of tools. There are others on the market, but our users prefer Wall Of Traders because of its intuitiveness, its range of functions and because it is free.
You'll love it for sure!
---
Smart Trading Features
-put Take Profit (TP) and Stop Loss (SL) at the same time
-put Trailing on Entry, Take Profit and Stop Loss, i.e. an automatic move of your order following the price of the market
-create Stop Loss on Exchange only when the price is reached, thus invisible for the Exchange and for the other Traders
-trade on several Exchanges (Binance, Binance Margin, Binance US, Huobi, Bitfinex, Kraken, Bitmex, Bittrex)
-follow current and historic Orders visually, simplely and intuitively
-edit
, cancel
or panic sell
with one click:

-see the details
in a Cart: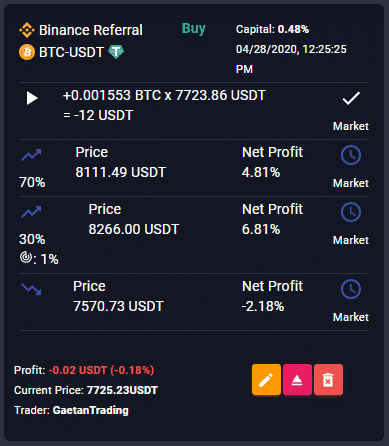 -get copied, if you like
We hope it will help you to become a prot trader :
---
Copy Trading, Automatic Cryptocurrency Trading
Copy Trading is highly valued by beginners, non-Traders, Traders in the learning phase, or simply anyone who currently does not have the time or energy to trade.
Indeed, Trading is a science that takes time to learn, that requires years of experience in order not to fall into traps, and which on a day-to-day basis requires time to work and analyze. Whether it is doing technical analysis using mathematical indicators or doing fundamental analysis, digital assets trading like cryptocurrency trading is time-consuming.
---
Auto Trading
Copy Trading is the act of automatically or semi-automatically replicating Trader orders on your account. The professional trader has an idea of trade and places orders on his account? So if you copy this Trader, these orders will be placed on your account.
You may not have time to train in Cryptocurrency Trading. Or you have tried, and you have not achieved the expected results. Thanks to the Copy Trading Bot, you entrust the choice of orders to the Trader of your choice and our Bot takes care of everything.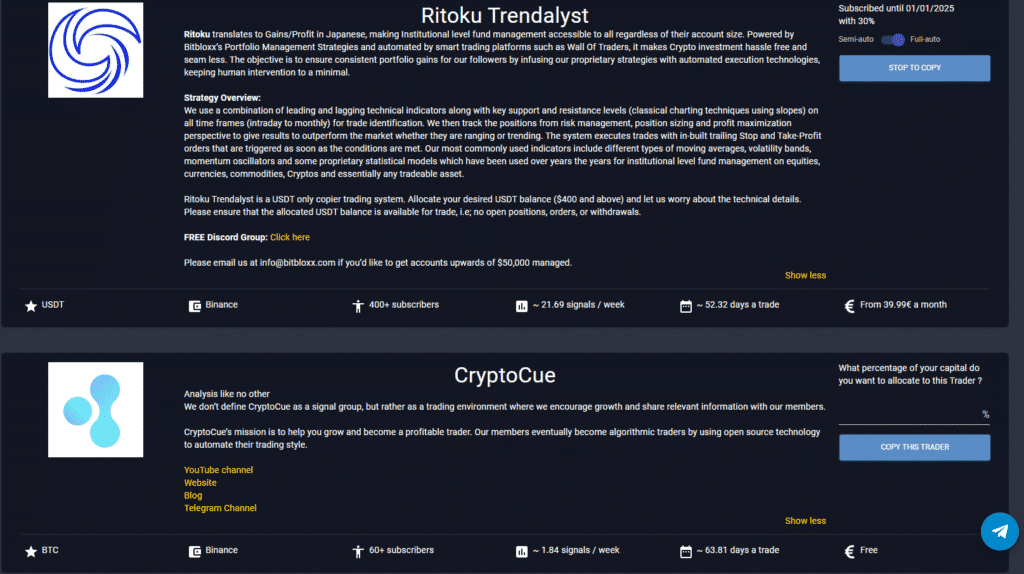 Thus the Trader chooses the Exchange on which to run the Trade, the pair, the type of order, the buy price, the sale price, and he chooses to put a Stop Loss, Trailing, a Trigger Threshold. You can sleep easy and take care of nothing.
The Trader can also manually edit a trade in progress, cancel it or panic sell.
Traders are selected based on their past results. Only Traders with convincing results are put in public.
So you get almost the same performance as the Traders. On Binance, there is very little risk of shifting prices because the liquidity of the main pairs is very high. So you will get almost the same buy and sell prices of the Traders you copy.
---
How are Traders selected?
To select a Trader, we consider several criteria that help us determine whether a Trader has a good chance of having good results in the future. No one is soothsayer and can not know in advance whether a Trader is going to be profitable. That's why we take into account several criteria:
-The track-record, which is the history of orders placed by the Trader. The longer the period, the better. A track-record of several years is ideal because it allows to see how the Trader's performance performs on different market trends. It is important to observe the history in a bullish market (bullish or bull run), in a bearish market (bearish or bear run), and in a range market where prices alternate between up and down.
-The Trader's existing community. We are looking for the best traders on social networks: TradingView, Telegram, Discord and YouTube mainly. On these networks, we can get in touch with the community in order to get feedback on the Trader. Is it reliable? Has it performed well so far? What's his strategy?
–The type of Trading. Groups such as "Pump and Dump" are prohibited. Simply because the principle is that the winners make money on the losers. And 90% of the cryptos "won" are collected by the organizers of the Pump and Dump. Indeed they place their buy and sell orders in advance to pluck you. Such groups will never be present on Wall Of Traders Copy Trading.
---
The Telegram Notifications Bot
Whether you are a Smart Trading enthusiast or a Copy Trading enthusiast, you can use the Telegram Notification Bot.
Telegram is an instant messaging app used by more than 350 million users worldwide. Unlike WhatsApp, Telegram allows the creation of Bots, i.e. robots. We have created a Trading Notifications Bot. Downloadable in web version, in application for computer, or for Smartphone Android or iOS, you choose.
You will receive notifications for Trades you create or follow when:
-a Trade is created
-a Trade is canceled
-a Limit is pending
-a Take Profit is reached
-a Stop Loss is reached
-a Panic Sell is done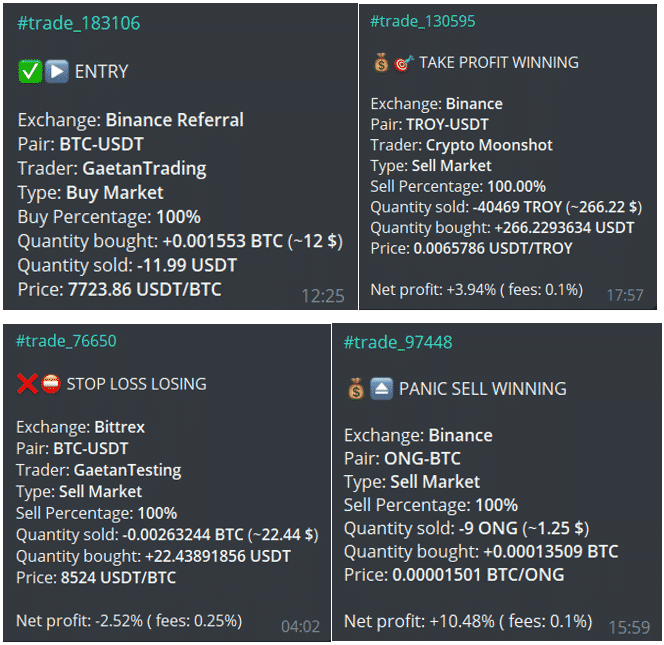 ---
We hope you enjoyed this article and will help you take the plunge to trade with the right Cryptocurrency Trading tools.
Write a comment to share your experience, we will answer all your questions.
Share it with others and support us by sharing it on the social network of your choice and sending it to your contacts who might be interested.
And if you want to meet other Traders, join the Wall Of Traders English-speaking community on Telegram.
---
To know more :
To read our other articles and tutorials on trading, it's here : How to profit from Copy Trading and Smart Trading for free?, How to set up your Copy Trading and Smart Trading account?, Smart Trading: the complete tutorial, Binance Futures: the complete tutorial.
---
This article is not an investment advice. Do your own research before investing in the cryptocurrencies market.