Huobi Review and how to use it:
Huobi is a global cryptocurrency exchange popular who makes regular appearances on Twitter. Founded in 2013, it is one of the oldest online exchanges. Traders from UK, India, Indonesia, South Korea and many other countries can buy cryptocurrency tokens such as Dogecoin (DOGE), Bitcoin (BTC) and Tether (USDT) through Huobi.
In this review, we'll cover what Huobi is, its history, and everything you need to know about payments and fees in 2022.
---
Huobi Review: What is Huobi?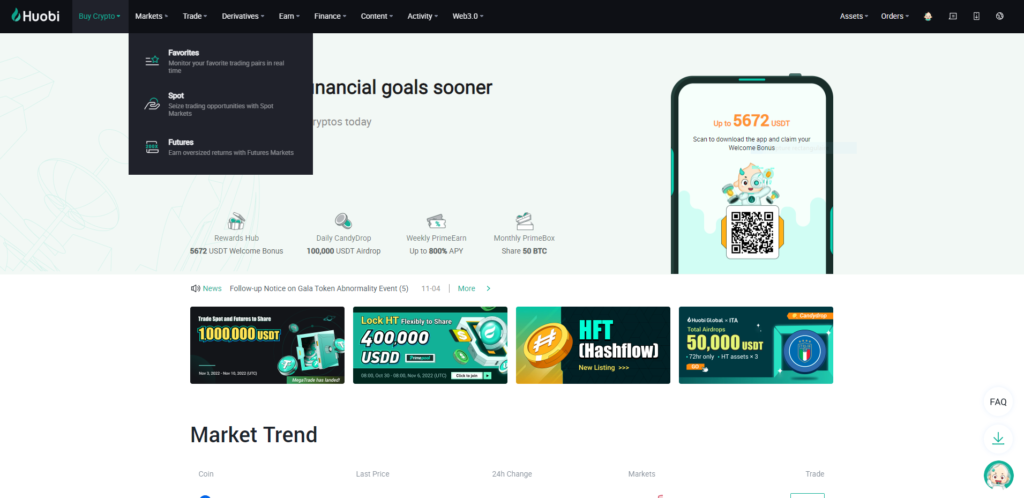 The Hubobi exchange is one of the largest cryptocurrency exchanges in the world, ranking among the top three in terms of transaction volume, initially serving only China, but now offering cryptocurrencies to customers in over 130 countries. Huobi Global, the holding group and owner of Huobi, has offices in various countries, including the Japan, South Korea, the United Kingdom, australia, Canada, Brasil and Hong Kong. Based in the Seychelles and listed on the Hong Kong Stock Exchange (HKG: 1611).
Huobi currently has more than 380 crypto-assets and more than 200 tokens listed, with a 24-hour trading volume exceeding $35,700,000,000. Listed coins include Ethereum (ETH 2.0), 1inch (1INCH), Binance Coin (BNB), Ripple (XRP), Quant (QNT), HUSD (HUSD), eCash (XEC), NEM (XEM.) ), Fringe (XVG) and Symbol (XYM).
Huobi also has its own token, Huobi (HT), which was launched in January 2018. According to CoinMarketCap, it is one of the top 100 cryptocurrencies by market capitalization. You can view the current stock price on Huobi's official website.
---
Huobi Review: How does Huobi work?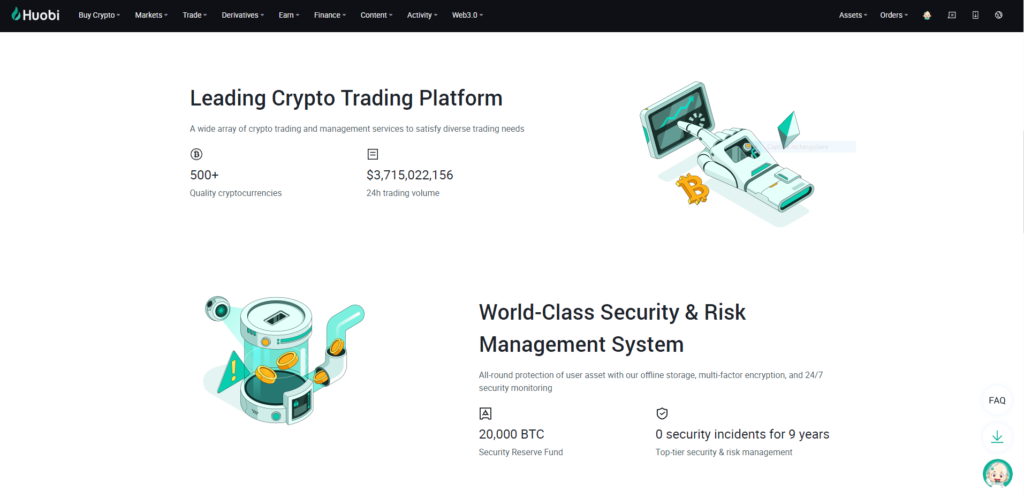 Huobi works like most other cryptocurrency exchanges, people can buy or sell cryptocurrencies, and the platform earns money from the transaction fees and of negotiation. Lately, Huobi has been focusing on USD-backed stablecoins. These tokens are less prone to market volatility. If you deposit one of the four stablecoins (Paxos Standard, True USD, US Dollar Coin and Gemini Dollars), the funds are automatically transferred to HUSD Huobi. When withdrawing, you can choose any of the stablecoins in a ratio of 1:1. This eliminates the need for users to convert stablecoins in the event of a change in value, thus eliminating conversion costs.
---
Huobi Review: What are the Advantages and Disadvantages of Huobi
advantages
The cybersecurity at a high level
Several interesting features
Multiple platforms and applications
24/7 customer support
Large selection of cryptocurrencies
Good liquidity from one of the largest scholarships of the world
disadvantages
No MetaTrader platforms
Not available for US customers
No leverage for new clients
---
Huobi Review: Regulations
Huobi is regulated by the Republic of Seychelles. Also, it is regulated by the Financial Conduct Authority (FCA) in the UK. The exchange adheres to the KYC policy and limits withdrawals to customers who fail this verification procedure.
---
Huobi Review: Payment Methods
The platform accepts more than 90 methods of deposit and withdrawal, including bank transfers and credit/debit card payments. Users can also purchase tokens with a credit card through the Quick Buy feature. If you have fiat currency, such as Euro, you can deposit and withdraw using the following methods:
Fast payments
ABA USA transfer
SWIFT international transfer
Visa/Mastercard
US Dollars Balance
SEN
---
Huobi Review: Taxes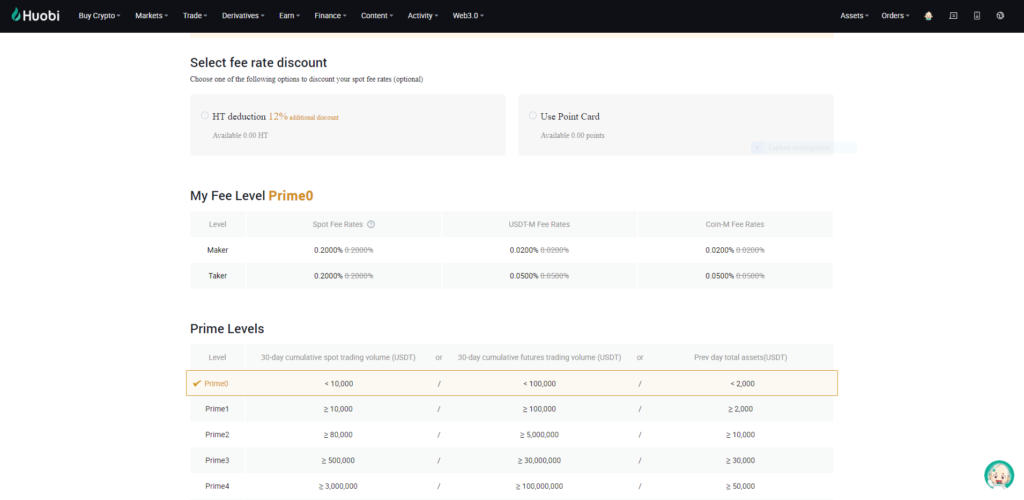 Deposit and withdrawal fees
Huobi demands a $100 minimum deposit with an international bank transfer fee of 1% of the deposit amount. For users who have not completed identity verification, the exchange limits the amount that can be withdrawn to 0.06 BTC. For those who have completed verification, the daily withdrawal limit will be increased to 200 BTC and withdrawal fees will be charged. The fee for international bank transfers is 1%, or 0.0001 BTC and 0.001 LTC respectively.
Trading Taxes
Huobi uses a tiered pricing structure based on the number of Huobi Tokens (HT) held by customers. If the trader's HT is less than 10, a base rate of 0.2% will be applied and the additional fees will be reduced:
≥10 excl. VAT = 0.18% fee
≥100 excl. VAT = 0.16% fee
≥500 excl. tax = 0.12% fee
≥1000 excl. tax = 0.09% fee
≥2000 excl. tax = 0.08% fee
≥5000 excl. VAT = 0.07% fee
Huobi users can also get discounts by purchasing and using loyalty cards. For some cryptocurrencies, Huobi can use a minimum order size. It is updated regularly and can be consulted on the website.
Fees for Huobi futures contracts are slightly different. The commission for opening and closing positions is 0.02% for buyers and 0.04% for sellers. Remember that this commission is paid on both sides (opening and closing).
For token listing fees on Huobi, visit the website.
Huobi Review: Security
Huobi has advanced cybersecurity to protect your assets and profits from theft or loss. The exchange requires a two-factor authentication (2FA) to establish a connection. This can be reset at any time if desired.
---
Huobi Review: Support
Huobi prides itself on top-notch customer service and support. Whether you want to close and delete your account or need your questions answered, our help center is available 24/7. Users can leave messages or use the live chat feature. Traders can also contact Huobi via Telegram. We will now introduce you to the Huobi Tutorial.
---
Huobi Review: How to transfer funds to Huobi?
First, go to Huobi, then in the interface, click " Buy Crypto " and " Quick Buy/Sell ".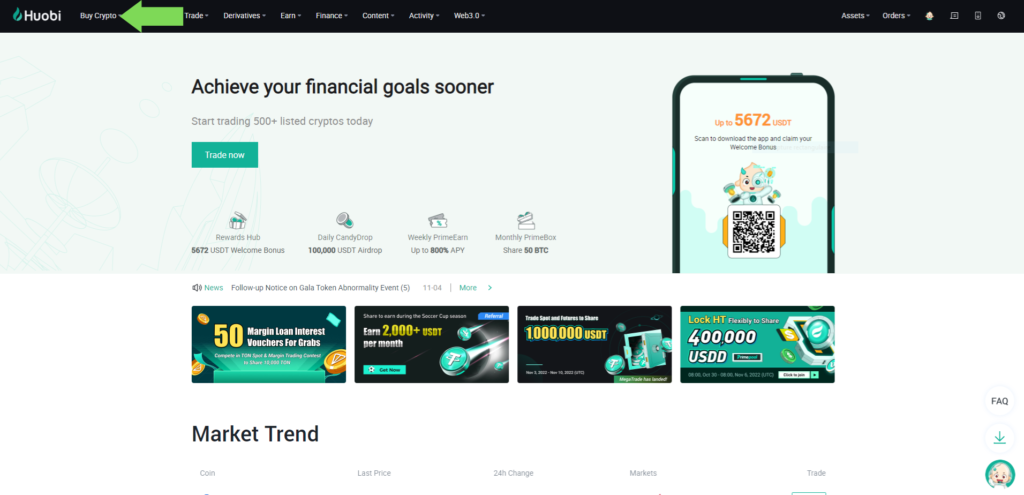 Then choose your currency and enter your information and don't forget to verify your account with 2FA.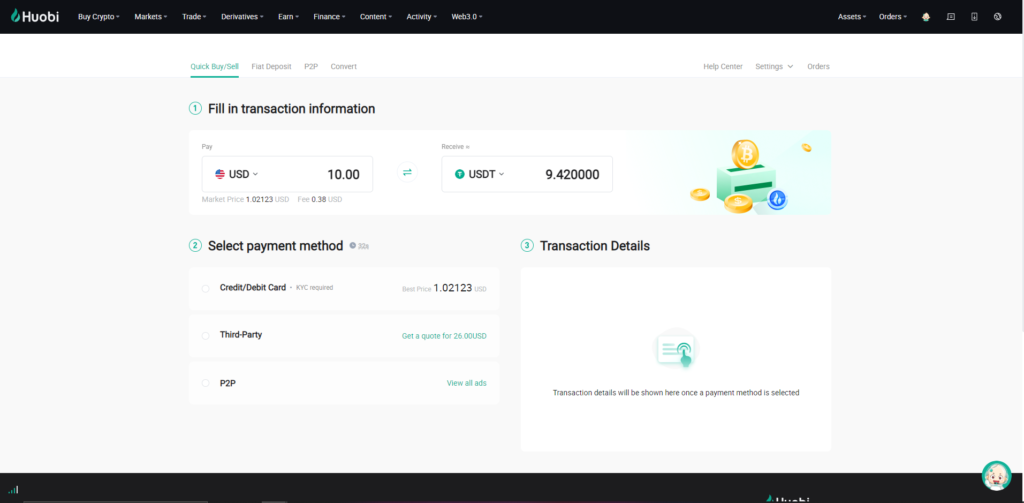 Huobi Review: How to place a trade on Huobi?
To get started go to Huobi and click on your profile avatar, then on " API "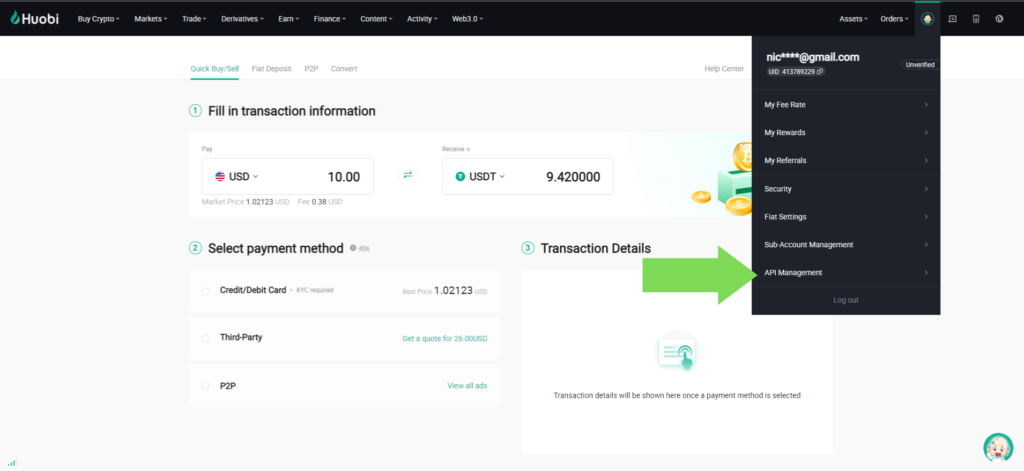 Next, create the API Key and Secret API Key.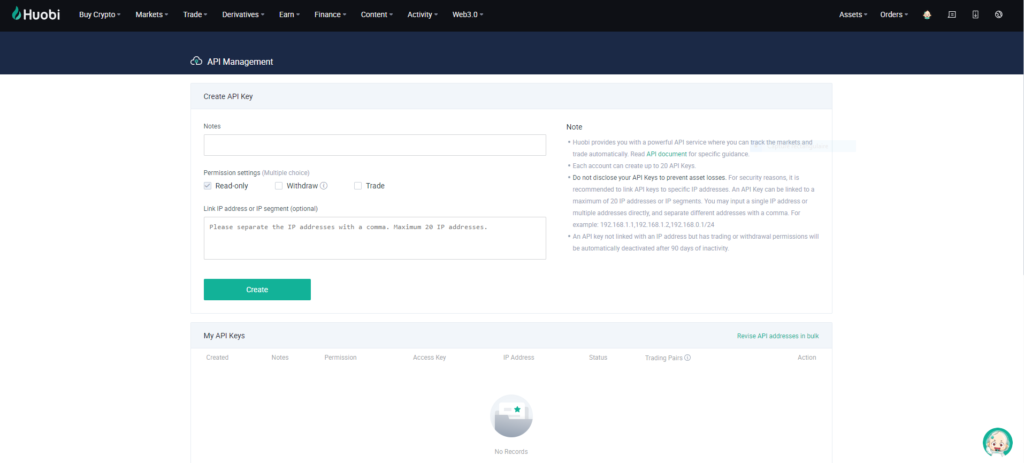 Visit Wall Of Traders in " Exchanges ", then choose "Huobi" as the exchange and enter your API keys and secret API.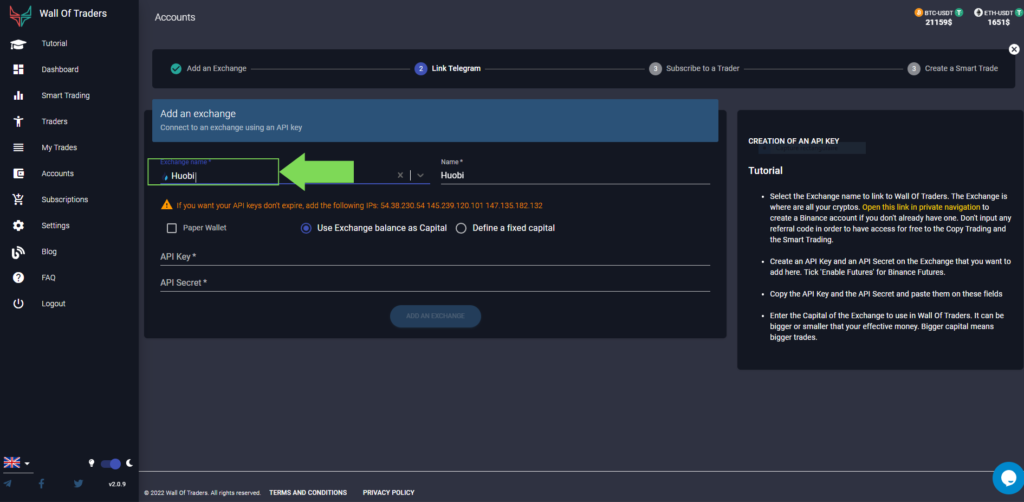 Finally, go to the " SmartTrading " to create your trade, you will find here an article dealing exclusively with Smart Trading and how to use it.
---
Huobi Review: Why use the Wall Of Traders trading terminal to trade on Huobi?
Possibility to define several Take Profit in order to secure its gains gradually.
Ability to define a Stop Loss
Increase in long mode and decrease in short mode with trailing in Take Profit and Stop Loss in order to optimize earnings and take advantage of Bull Runs and Bear Runs.
Set a trigger Where Threshold Trigger to open trades at specific times. With, for example, the possibility of to break a resistance or one support.
to cancel Where Sale automatically transactions through a timer.
Possibility of edit, to cancel Where Panic Sell sales offers with a single click.
Show maximum trade loss and ratio reward / Risk or the report profit / loss.
Possibility of receiving telegram-notifications every Take Profit, Stop Loss or each hall directly.
Copy automatically top Huobi traders.
Create your own trading group to share with your followers or friends.
---
I hope you enjoyed this article and that it was helpful to you, feel free to check out our other blogging, I'm sure they will be very useful to you!
---
This article is not investment advice. Do your own research before investing in the cryptocurrency market.
---
---